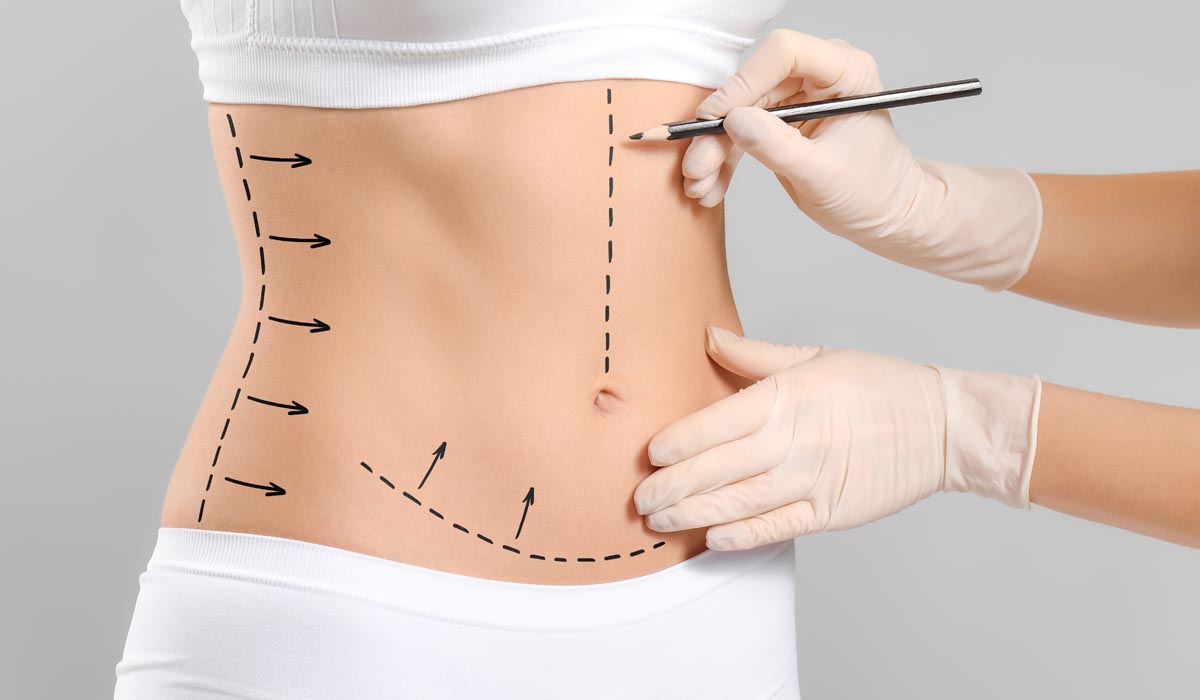 "Abdominoplasty (tummy tuck) is a major cosmetic surgery that makes the abdomen firmer and thinner. The procedure includes the surgical removal of excess fat and sagging skin, and tightening of the skin."
Types of Abdominoplasty (Tummy Tuck)
Depending on the patients, there are three types of tummy tuck surgeries performed in our plastic surgery clinic in Dubai. Abdominoplasty can be minor or more involved procedure. It all depends on the final goal and amount of skin and fat needed to be removed.
Complete Abdominoplasty: Patients who need major corrections goes for this option. The surgeon makes an incision on the bikini line, at the same level of your pubic hair. The surgeon removes the extra fat, skin, and tissues from the region. The length of the surgery scar depends on the length of extra skin removed. The surgeon may also make an incision around the belly button (navel region) to free the navel from surrounding tissue. Post-surgery, most patients have drainage tubes placed under the skin for few days.
Partial or Mini-abdominoplasty: Mini-abdominoplasty is performed by making small incisions and removes excess fat around the navel area. The surgery is advised to patients who have less excess skin. The surgeon separates the skin between the line of incision and the belly button. The procedure takes only a couple of hours to be completed. Due to less complexity, the surgeon may or may not have drainage tubes after surgery.
Circumferential Abdominoplasty: Circumferential abdominoplasty includes back surgery. The surgeon uses a longer incision to remove excess skin and fat from the patient's backside, mainly from the hip and butt region. The surgery aims to improve the shape of your body from all sides.
Best Candidate for an Abdominoplasty:
Tummy tuck must not be confused with liposuction or considered an alternative to weight loss. The procedure is safe for both men and women who have good health and stable weight. However, people who are obese and have undergone a drastic weight loss can also use the procedure to tighten loose skin and shape up their abdominal muscles. Many women who have loose and sagging skin around the waist after having several pregnancies can get their smoother and tightened waist back. The tummy tuck procedure helps people get back their confidence.
Ensure that you have a detailed discussion with our aesthetic surgeon before you undergo surgery. It is essential to understand all the benefits and risks associated with a tummy tuck.
How can 7DMC help you?
You don't have to live with protruding abdomen anymore. You can now get your abdominoplasty from our aesthetic surgeons having outstanding credentials. Our aesthetic clinic in Dubai is your one-stop solution that offers patients the convenience of finding everything under one roof. Our staff and doctors are dedicated to providing constant help and support throughout the process. We consider it is crucial to provide the best experience possible to each of our patients.
Our cosmetic surgeons in Dubai clinic offer all types of abdominoplasties. Dr. Georgia Vadarli provides consult to patients with varying degree of correction needs. She specializes in advanced techniques for natural-looking belly buttons, minimal scarring, and defined contours. The surgeon strongly believes cosmetic surgery is an art form that helps people enhance their beauty and build confidence. A tummy tuck is an important part of our body contouring treatment. The surgeon may combine other skin-tightening procedures along with your abdominoplasty so that you can have smoother and tighter skin all over.
To achieve impressive results, contact our plastic surgery clinic in Dubai and book an appointment with our Board-certified cosmetic surgeon.
November 30, 2021
7 Amazing Benefits of Hijama Hijama Therapy Cupping is an ancient Chinese remedy that the Egyptians also employed. Cupping promotes life force energy in the body […]
March 30, 2020
Cupping therapy for high blood pressure One of the most dreadful health conditions – high blood pressure or hypertension as some call it, affects millions of […]