Nonsurgical Eyebrow Lift in Dubai
When it comes to enhancing eyebrows, we have seen some ground-breaking improvements in the medical industry during the past decade. For a very long time, people used to resort to cost-enduring and risky surgeries to address this issue. And let's face it, most of us have and will face this skin issue in our lifetime. Do you really want to get under the knife every time you want to lift your eyebrows? 
It won't be a wild prediction if we guess that most of you would say no to that. Fortunately, more options are now available to you for taking care of your eyebrows. And, we are talking about non-surgical options here. Yes, that's right! Lifting eyebrows is easier and safer than it has been ever before. These non-surgical treatments are also called non-surgical blepharoplasty, and this is what we are going to talk about today.
What is Non-Surgical Blepharoplasty?
Non-surgical blepharoplasty is an umbrella term for a wide variety of non-surgical treatments that have brought a plethora of innovations and channels in the arena of medical aesthetics. 
As you can guess, these treatments don't involve any forms of cutting or removal of excess fat or skin. They don't even involve the modification of orbicular muscles of your eyelids. Henceforth, all forms of risks that are associated with traditional cosmetic surgeries are eliminated in these treatments.
Non-surgical blepharoplasties can range anything from Botox to dermal fillers. The type of non-surgical blepharoplasty that you would need to undergo would clearly depend on the severity of your eyebrows' condition. 
It is extremely important to get consulted from a certified dermatologist in this regard. Not only will they be able to advise you which treatment would be best suited for you, but they would also guide you on the before and after precautions, you would need to take while going through the treatment.
Eyebrow Wrinkles
Many candidates freak out when they see their skin getting wrinkled for the first time. Well, for those of you, all you need to understand is that skin droopiness or wrinkling is a natural phenomenon that would inadvertently occur as you age. 
Generally, when you enter your 30s, your skin produces less collagen than before. Collagen is the protein that is responsible for keeping your skin smooth and supple. As a result, with the loss of collagen, wrinkles and fine lines start appearing around your eyes, making your eyelids and eyebrows look droopy. Now, the reason wrinkles are more prominent in your eyebrows compared to other areas of your face is because, the skin in that region is extremely thin. In fact, the first signs of aging appear in and around your eyes only.
If you are thinking of a way to stop wrinkles from appearing ever, you would be highly disappointed since you can't stop them from happening. However, you can delay or minimalize them with good healthy habits concerning your lifestyle, diet, sleep cycle, and then some.
Types of Non-Surgical Blepharoplasties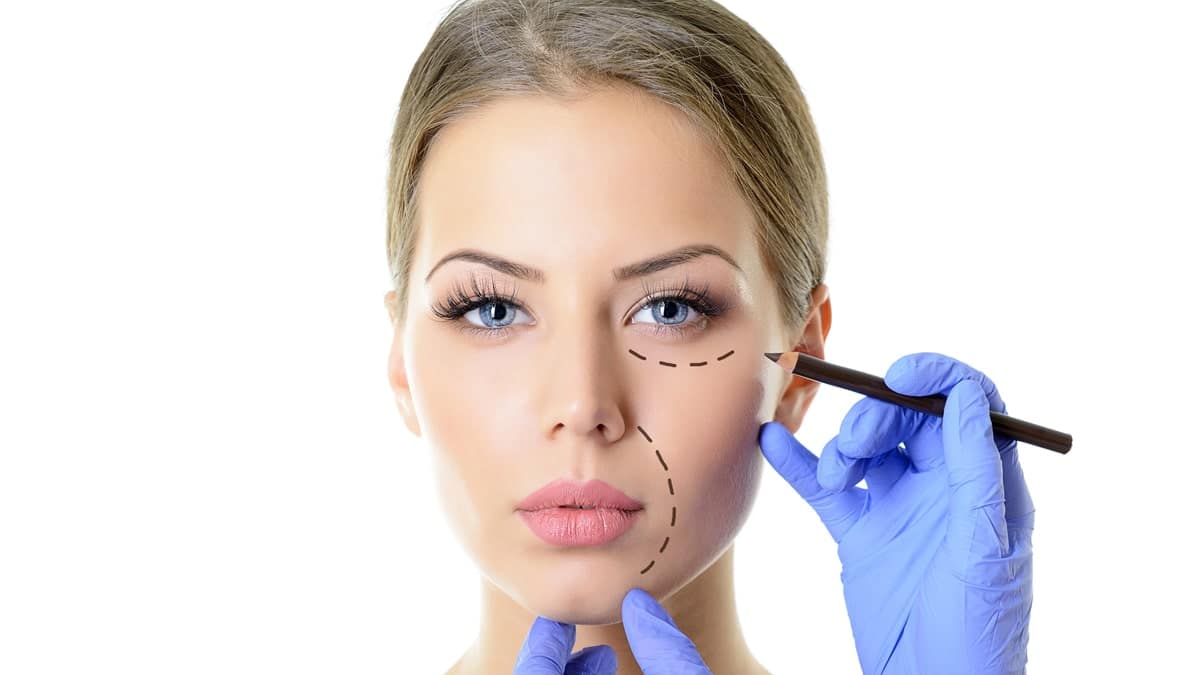 Some of the most common types of non-surgical blepharoplasties are as follows:
Botox
Probably the most common type of non-surgical blepharoplasty treatment out there, Botox is a class of cosmetic injections known as neuromodulators. They are used to smooth out wrinkles and fine lines. The results from Botox are quickly seen. You need to repeat them every 4-6 months to maintain your desired results.
Dermal Fillers
These are skin-plumping solutions filled injections that help in smoothening and tightening your skin. There are various dermal filler brands in the market such as Sculptra, Juvaderm, Radiesse, Bellafill, and Restylane. 
Platelet-Rich Plasma
These skin rejuvenating injections uses your own blood through centrifugation and injects the sample back into your body to give you a youthful appearance. It is often performed alongside Botox, laser treatments, and microneedling.
Laser Therapy
In laser therapies, abrasive lasers are used to treat wrinkles. Herein, the upper layer of your skin is removed so that new, smoother skin cells can grow in place of it. It does have a longer downtime than the others in this list though since you would experience peeling and redness for up to ten days after the procedure.
Who Should Opt for Non-Surgical Blepharoplasty?
Non-surgical blepharoplasty treatments are mostly recommended for those who have failed to achieve desired results from over-the-counter wrinkle treatments. 
You must avoid these treatments if you are:
under the age of 18 years

pregnant

taking medications such as blood thinners
You also need to let your dermatologist know about any kind of other medications, supplements, or herbs that you may be taking presently or have taken in the past. Other than that, you are good to go for these treatments.
Following the treatment, you must avoid heavy physical activities for a few days in order to enhance the effects of the treatment.
Some candidates prefer combining non-surgical blepharoplasty treatment with surgical treatments to maximize the result. If you choose to do so, we highly recommend you to consult your dermatologist beforehand. 
Is Non-Surgical Blepharoplasty Safe for You?
We highly recommend you to undergo any non-surgical blepharoplasty from a recognised and certified dermatological center only. Chances of incurring side-effects or other additional risks are way lower when you are under the care and guidance of a skincare specialist who has a history of dealing with these treatments.
Coming to the side-effects, they are extremely subjective and depend on the condition and sensitivity of your skin. Some of the common side-effects that you may face post-treatment are as follows:
Swelling

Scarring

Itchiness

Rashes

Bleeding

Numbness

Infection

Soreness

Bruising

Hyperpigmentation

Nerve injuries

Droopy eyelids

Droopy eyebrows
Stay in touch with your dermatologist and keep him or her informed about all the side-effects that you may face. Following the advice of your doctor will not only help you avoid the side-effects but will also maximize the potential of the treatment that you would go through. 
Remember, undergoing these treatments from a non-reputed or unrecognised place can open up life-threatening risks for you. 
It should also be noted that non-surgical blepharoplasties are not permanent. You would need to repeat them after a specific period of time (depending on your skin condition and your doctor's recommendation). 
Lastly, non-surgical blepharoplasties are economical by nature and have low risk compared to traditional cosmetic surgeries. Not to mention, they are also way less time-consuming. So, get yourself acquainted with them, speak to your dermatologists about them, and give your eyebrows a hassle-free lift.
References
Fabio Nicoli, Georgios Orfaniotis, Pedro Ciudad, and Michele Maruccia – Research Gate – Correction of cicatricial ectropion using non-ablative fractional laser resurfacing. Available at:
https://www.researchgate.net/publication/326672939_Correction_of_cicatricial_ectropion_using_non-ablative_fractional_laser_resurfacing
Milind Naik, Santosh Honavar, Sima Das, Savari Desai, and Niteen Dhepe – Research Gate – Blepharoplasty: An Overview. Available at:
https://www.researchgate.net/publication/42345912_Blepharoplasty_An_Overview
Adone Baroni – National Library of Medicine – Non-surgical Blepharoplasty with the Novel Plasma Radiofrequency Ablation Technology. Available at:
https://pubmed.ncbi.nlm.nih.gov/31535742/
Nasser Karimi, Mohsen Bahmani Kashkouli, Hamed Sianati, and Behzad Khademi – NCBI – Techniques of Eyebrow Lifting: A Narrative Review. Available at:
https://www.ncbi.nlm.nih.gov/pmc/articles/PMC7151508/
Min-Jeong Cho, Jourdan A. Carboy, and Rod J Rohrich – Research Gate – Complications in Brow Lifts: A Systemic Review of Surgical and Nonsurgical Brow Rejuvenations. Available at:
https://www.researchgate.net/publication/328327577_Complications_in_Brow_Lifts_A_Systemic_Review_of_Surgical_and_Nonsurgical_Brow_Rejuvenations