Hair Fillers
The way your hair looks not only affects your personal life, but also your career. What you wear sets you apart from others, but it's not the only thing. Individual's self-esteem suffers greatly when they experience hair loss. People's opinions about you fluctuate depending on how you look and how confident you are in yourselves. Your self-assurance will make you look more presentable at work and more comfortable in social situations.
It's perfectly normal to see changes in your hair as you age, especially as you approach your 40s. As with everything else in our bodies, our hair changes with age in a number of ways. Hair filler is one of many hair treatments with great potential as a powerful remedy for hair loss. Filler has transformed the beauty and hair care sectors owing to its numerous beneficial effects, which include cosmetic and therapeutic advantages as well as a long-lasting effect.
What is hair filler?
Hair filler is a long-term remedy for thinning hair in specific areas of the scalp. These fillers give the appearance of having full, thick hair. Unlike some other hair loss treatments, hair filler is a non-invasive procedure. There are numerous methods for applying hair filler, but all of them produce visible long-lasting results.
The treatment involves injecting a group of substances into the hair to make it appear thicker and denser. The filler has a number of ingredients that improve the luster of hair while also reducing the amount of damage it takes from the environment, making it more manageable to style.
Contents of hair filler
Hair filler contains a variety of substances including:
Keratin – This component is naturally present in hair and surrounds it to protect, treat, and boost hair strength.
Hyaluronic acid – It is a natural substance present in cell components and is often used as filler for the cheeks, lips, and skin in general. As a result of its high water retention capacity, this ingredient helps to keep hair more hydrated longer.
Argan oil – Oil obtained from Argan trees helps to instantly moisturize and enrich the hair, making it look and feel healthier.
Zanthalene – A substance that serves to both tighten and relax hair filaments.
Hair filler methods
Hair fillers can be applied in numerous ways and with a variety of methods. Depending on your needs, you can get a range of hair fillers at dermatology clinics or salons. Some alternatives are long-term, while others are simply transitional. Few methods are mentioned below:
Scalp Micropigmentation – Scalp Micropigmentation, often known as SMP, is a long-term solution to hair loss. SMP is different from other methods in that it requires injecting very small quantities of pigment into your scalp. As a result, you'll have a complete head of hair covering up any balding or thinning spots.
Couture Fillers – Human-made real hair is used in couture hair fillers to thicken and add volume to balding or thinning areas of the scalp. This approach is totally tailored to meet the specific needs of each client. The strand-by-strand approach involves adding individual strands of hair to your real hair where it is receding. This is how couture fillers create volume to your hair. The end result is thick, luscious hair that looks natural.
Protein Hair Fillers – Protein hair fillers are often used to control and treat additional hair harm. Hair filler protein treatments can be utilized at a salon or even at home. Use of protein hair filler before coloring or using chemical methods protects hairs and repairs broken hair strands. Protein hair filler can also be used to keep dyed hair looking its best after it's been colored.
Hair Fiber Powder – For a quick remedy, hair fiber powder can be used. You can use a powder that has microscopic hair follicles. These little particles cling to your natural hair and give the appearance of extra volume. However, this is simply a short-term solution because it may not work on bald spots.
Each individual is unique in his or her own ways. It's possible that combining two or three of these techniques will yield the best results for you. Consult our specialists to find out what's ideal for you.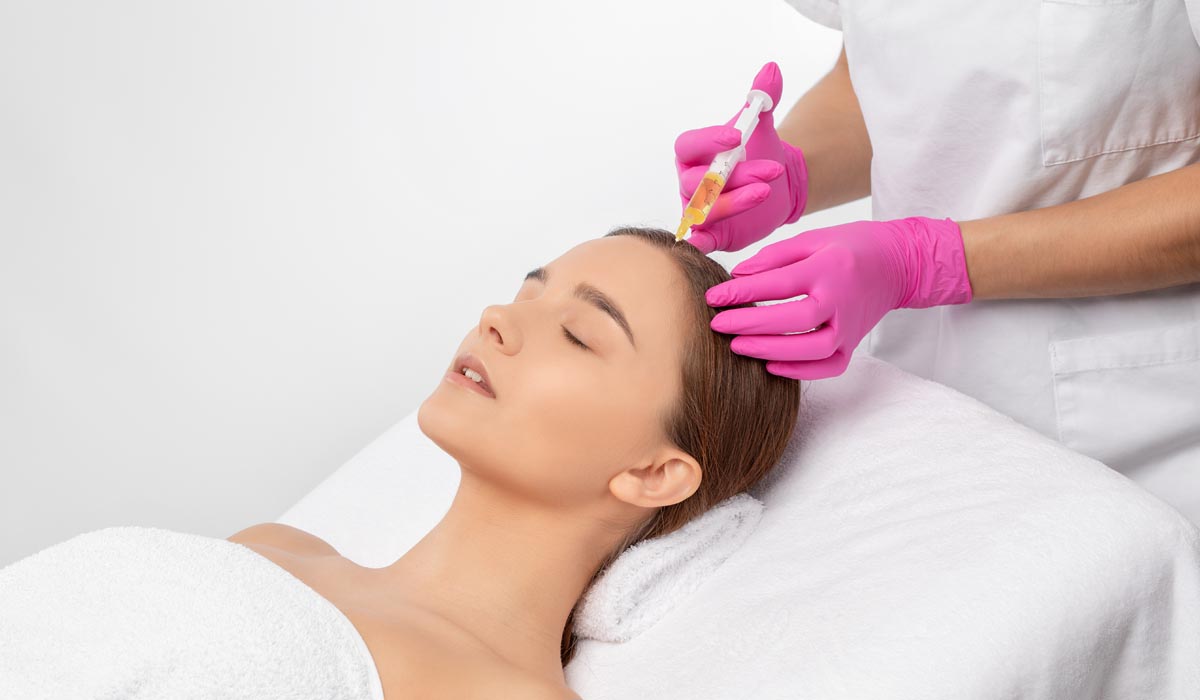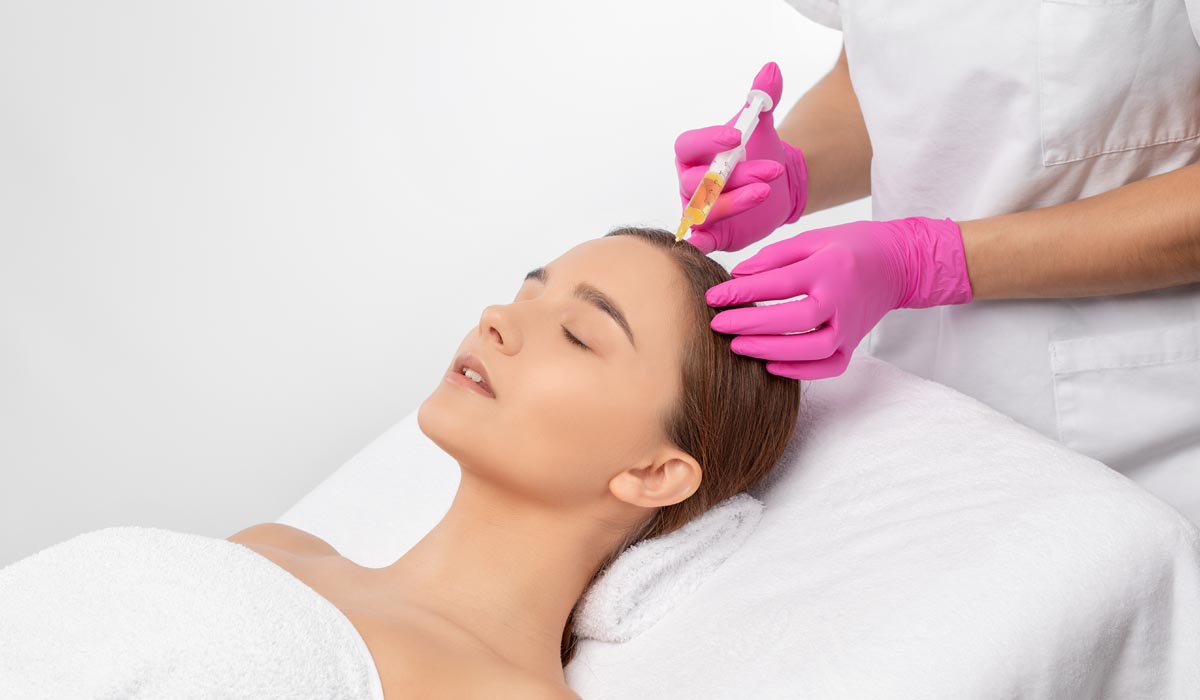 Hair filler advantages
Filler treatments for hair have numerous benefits, including the following:
Hair filler is safe, and the result it has on hair is realistic and therapeutic.
It contains natural ingredients, which have no negative impact on the hair or scalp and is unlikely to contribute to hair loss.
Filler has a long-lasting effect on hair.
It treats thinning hair and offers thicker, fuller hair right away.
It is compatible with dye and does not obstruct its use.
Who should opt for hair filler treatment?
Men, women, and children over the age of 3 with hair issues such as hair loss, receding hair, or brittle hair are good candidates for the hair treatment process. Those with dry hair should reap the benefits of hair filler since they are particularly beneficial. It is also recommended for those who have suffered hair damage in the process of being exposed to heat or other chemical agents. The filler is ideal for people who color their hair often and wish to keep it safe from the damaging effects of repeated dying. It is a great therapeutic choice for all those who are sensitive to Botox products and proteins used in the hair straightening process.
For the most part, you must check with our doctor to see if hair filler is suitable for your hair and that it won't interfere with any other medications or hair-care products you're already using.
Why choose 7DMC?
We are a renowned aesthetic and cosmetology clinic in Dubai. We have a team of experts and professionals who have extensive experience and are extremely competent to provide various medical services. We're concerned about your aesthetic medical issues, and we're always looking for new ways to incorporate cutting-edge technology into our procedures.
Our specialist will discuss your health records, problems, and expectations during your consultation. Before you begin treatment, we will do a comprehensive examination to see if you're a good candidate and if any additional steps need to be taken. A personalized framework will be designed for you in accordance with your objectives.
Hair has a significant impact on one's overall appearance, therefore both women and men attach more importance to it and will do all it takes to keep it smooth, dense, and elegant. Many people are apprehensive about using chemicals or undergoing a cosmetic procedure because they are worried about complications. Hair filler might be a safe solution for them.
Filler is the most recent innovation in hair care and safety. There is a lot of buzz about fillers lately in the cosmetics industry, and it has grown in popularity quickly. Because of the rising demand, the number of different types offered has expanded. It is composed of natural ingredients and is harmless to use even on children's hair. Within a few days of the treatment, you'll have strong, healthy hair that looks great and is free of damage.
References
https://hospitalhere.com/en/article/hair-filler-benefits
https://bbroyalcosmetic.com/2021/05/14/hair-filler-injections/