Tooth Whitening
(by Zoom Technology)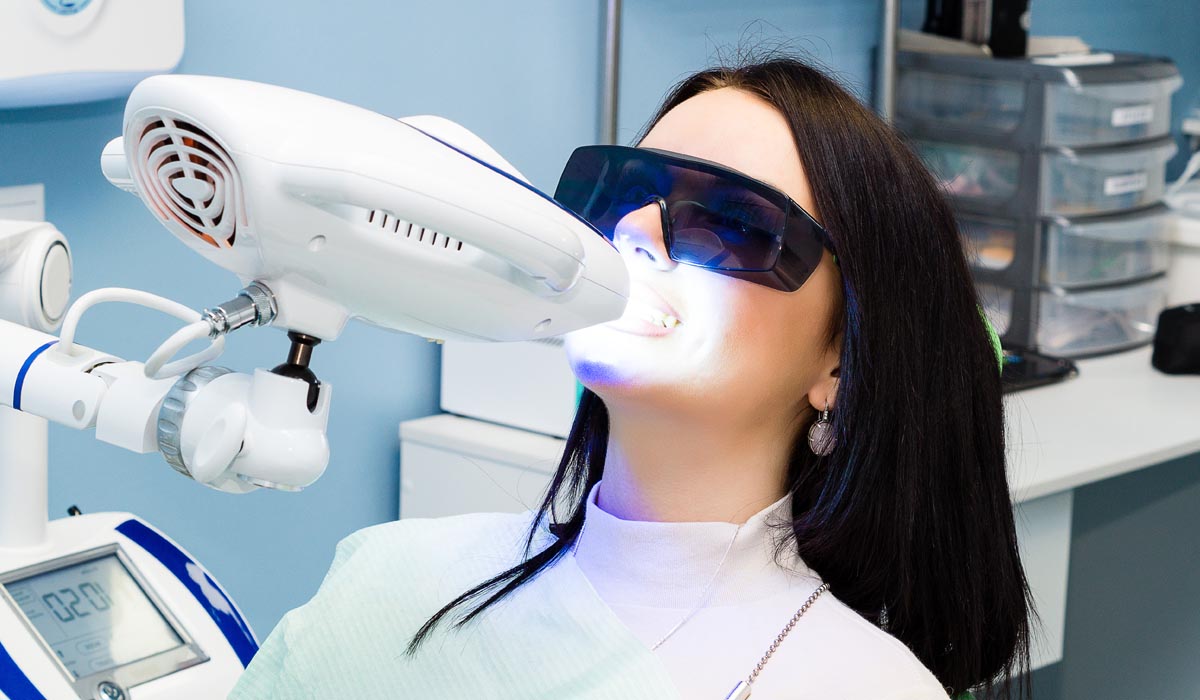 Zoom teeth whitening is a well-known bleaching process for changing the color of your teeth. The Zoom hydrogen peroxide gel is applied right after covering your gums and lips. The gel remains there for 15 minutes. The Zoom chairside lamp gets activated during that period. That lamp focuses on all of your teeth, triggering a chemical reaction that whitens them.
The goal of this bleaching procedure is to lighten dentin and enamel discoloration. The technique is accelerated by the lamp utilized in this procedure. When hydrogen peroxide decomposes, oxygen can penetrate the dentin and enamel. It also bleaches the discolored areas while preserving the tooth's structure.
How does Zoom Whitening Work?
As mentioned earlier, there are some precautions taken before beginning the process. A basic mouth cleaning is required before the Zoom cleaning. Then a shield is provided for your lips and gums to protect them from the bleach.
The hydrogen peroxide gel is applied three to four times in those 15 minutes. This gel formulated with hydrogen peroxide contains bleaching properties. Special lightening is often used that support the gel to release oxygen into your teeth. That oxygen further helps to flush out the discoloration and making it lighter.
The entire procedure takes around 45 minutes. It might be tough for those having sensitive teeth as it formulates a sensation after some time. There are chances that your teeth might feel sensitive even after the process. It can last up to 12 to 24 hours.
After Precautions for Zoom Whitening Treatment
You will be given a Zoom house-use touch-up kit after the treatment. It will contain some custom-fitted whitening trays. Our dentist will guide you on how to use them.
There are certain food items and beverages that you cannot eat or drink for 72 hours after the treatment. Apart from that, the dentist may advise you to stop using some substances altogether, such as smoking. You must consume red wine, coffee, cola, tea, and other beverages in moderation.
How Long does the Zoom Whitening Treatment Last?
The durability of the treatment depends on the daily habits of the patient. Addictions like smoking, drinking, or certain foods in excessive amounts can decrease the longevity of the treatment. In accordance to maintain the results, you must keep up with regular brushing and flossing. Also, makes sure to visit your dentist at least twice a year.
How can 7DMC help?
Our experts here don't directly hop into the treatment as you enter the clinic. They prefer to conduct a test of your gums and teeth to ensure your dental health. It is imperative to understand if you genuinely require the Zoom whitening treatment. Thus, we discuss your oral hygiene routine and your lifestyle. Based on this discussion, our experts decide on how beneficial the treatment will be for you.
Depending on your requirements and the condition of your teeth, our professionals make some additional suggestions. During the evaluation and consultation, our dentist notes down your existing dental work. It includes the functioning of your veneers and crowns for better understanding and preparation.
November 30, 2021
7 Amazing Benefits of Hijama Hijama Therapy Cupping is an ancient Chinese remedy that the Egyptians also employed. Cupping promotes life force energy in the body […]
March 30, 2020
Cupping therapy for high blood pressure One of the most dreadful health conditions – high blood pressure or hypertension as some call it, affects millions of […]