Dermal Filler
(using Hialuronic Acid)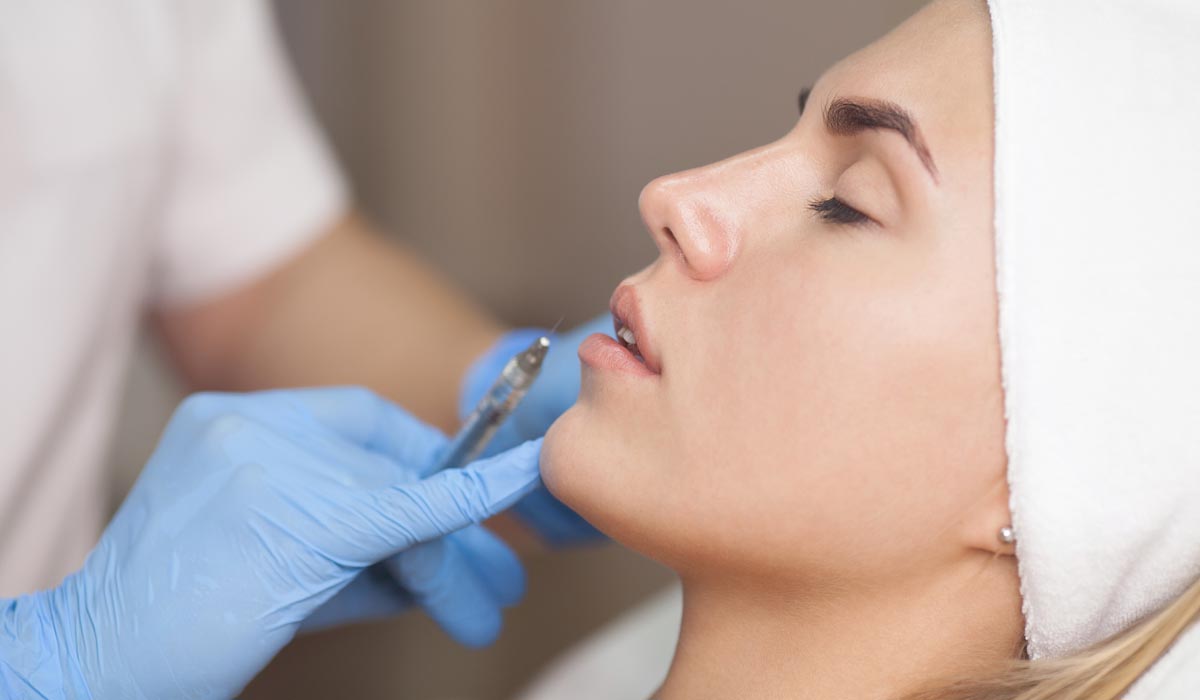 As the human body ages, plenty of changes happen at the cellular level. The manifestation of these changes shows up on the face and the skin. Wrinkles, age spots, sagging skin, scars, etc., are few such signs. Dermal fillers help curtail such signs of aging. The fillers help in lifting the skin and give it support. As a result, few signs of aging, like wrinkles, get softened, and the skin tightened.
What are dermal fillers? These are injectable implants for smoothening the skin and wrinkles. Hyaluronic Acid is one of the most frequently used fillers by aesthetic dermatologists of the different types of dermal fillers.
What is Hyaluronic Acid Dermal Fillers?
Hyaluronic Acid is present in our bodies as a natural sugar in the human body. It is found chiefly in the joints, connective tissues, and skin cells. One of its roles is to hydrate tissues and lubricate joints. The Acid also maintains the immune system of the body and plays an active role in tissue repair. The medical fraternity prefers it as a dermal filler because of its water-binding capacity.
Types of Hyaluronic Acid Dermal Fillers
Juvederm – it includes specially-made fillers like Juvederm Voluma XC, Juvederm Utlra XC, Juvederm Ultra Plus XC, Juvederm Volbella XC, and Juvederm Vollure XC. 
Restylane – consists of Restylane, Restylane Lyft, Restylane Silk, Restylane Refyne, and Defyne.
Belotero 
Uses of Hyaluronic Acid Dermal Fillers
It increases the size of the cheeks, plumps up the lips, and defines the jawline. Wrinkles, fine lines, crow's feet, frown lines, smile lines, deep forehead lines, and chin nasolabial folds can all be reduced. It also aids in adding volume to the earlobes, back of the hands, and beneath the eyes.
How can 7DMC help?
At the Department of Aesthetics & Dermatology at 7DMC, our team of internationally-trained aesthetic and skin specialists assess the skin condition to advise the best-suited solution. The objective is to rejuvenate the skin and minimize the effects of aging. Our surgeons are skilled in offering precise solutions after a thorough assessment of the facial anatomy.
Since there are many Hyaluronic Acid Dermal Fillers, our surgeons help you choose the right one depending on the desired outcome. For example, Juvederm Voluma is advised for lifting cheeks, and to fill the lips, Juvederm Volbella is recommended. 
The therapy begins with a consultation. During the session, patients are urged to express their aspirations openly. Our cosmetic surgeons will thoroughly examine the patient's face and evaluate the patient's medical history.
The region is initially cleansed before the therapy begins, and a local anesthetic may be used. Most Hyaluronic Acid dermal fillers contain lidocaine to reduce pain during treatment.
A small quantity of filler is injected beneath the skin in the desired region. In most situations, patients can see effects very quickly after receiving the injection. The results will persist for six to eighteen months.
November 30, 2021
7 Amazing Benefits of Hijama Hijama Therapy Cupping is an ancient Chinese remedy that the Egyptians also employed. Cupping promotes life force energy in the body […]
March 30, 2020
Cupping therapy for high blood pressure One of the most dreadful health conditions – high blood pressure or hypertension as some call it, affects millions of […]