Orbital Microdermabrasion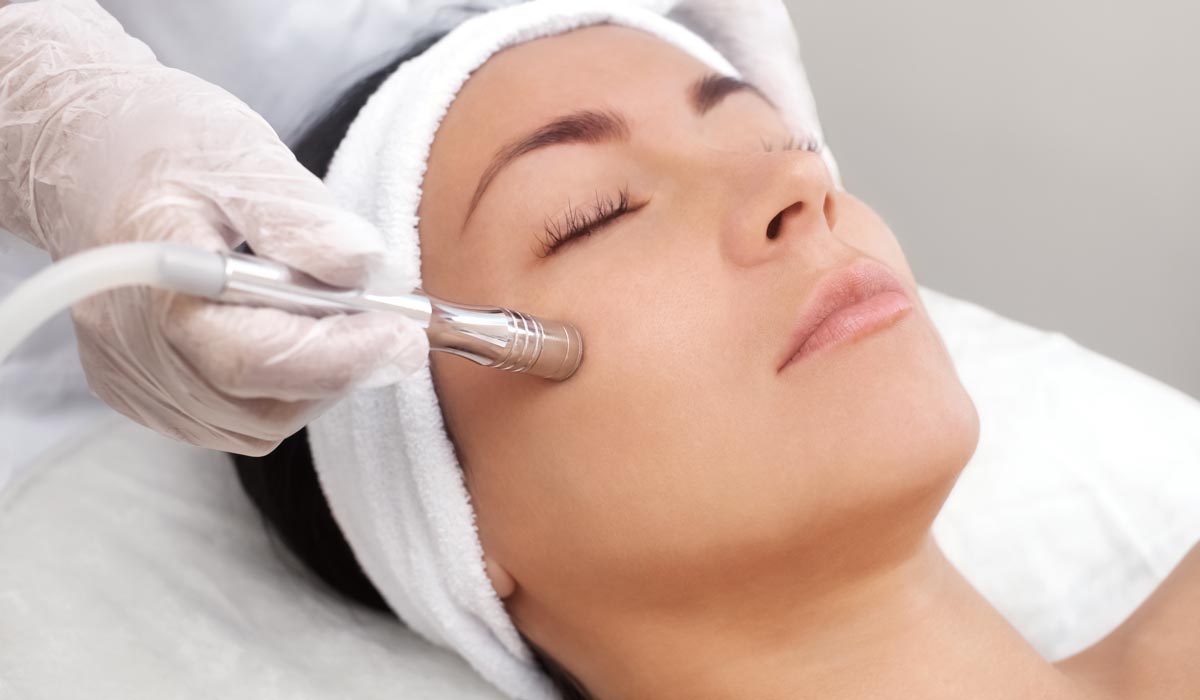 Orbital Microdermabrasion
The skin, in its youthful essence, naturally exfoliates and promotes cell regeneration. However, as the skin ages, the natural process slows down. Thus, the skin needs help with exfoliation and cell renewal. Microdermabrasion is a process wherein the outermost skin layer consisting primarily of dead cells is removed, partially or wholly, with light abrasion. As the stratum corneum (the outermost skin layer) gets removed, the youthful cells underneath are exposed. Orbital Microdermabrasion is one of the ways of carrying out the Microdermabrasion procedure.
Conditions when Orbital Microdermabrasion is recommended
This process is recommended for people who have wrinkles and fine lines. Aging spots, hyperpigmentation, blackheads, acne scars, stretch marks, melasma, etc., are also conditions that can be removed or reduced with this procedure. People with dull complexion or uneven skin tone can also try Orbital Microdermabrasion for dramatic results.
Benefits of Orbital Microdermabrasion
The Crystal-free Orbital Microdermabrasion process comes with multiple benefits. It helps remove debris and impurities like dead cells. The underlying youthful layer gets revealed in the process. Besides, it helps soften fine lines, wrinkles, sun damage spots, and other aging spots. The process leaves the skin hydrated, and the results are visible after one treatment. It is a non-invasive needle-free procedure. Light therapy, used in conjunction with Orbital Microdermabrasion, ensures blood circulation and tissue repair. The light abrasion stimulates the natural repair mechanism of the body resulting in the production of collagen.
How can 7DMC help?
The Department of Skincare at 7DMC has qualified aestheticians who study the patient's skin issues before working out customized sessions of Orbital Microdermabrasion.
The abrasion tip for this procedure comes in three grades – coarse, medium, and fine. Our expert technicians adjust the abrasion levels, the rotation speed, and the abrasion speed to ensure optimized treatment. Meticulous care is taken to make sure that the expectations and goals of the individual are met holistically. Depending on the skin condition, our experts suggest a personalized course of treatment for optimal results.
The treatment procedure involves using an orbital rotation handpiece that moves across the facial skin in an orbital axis. The abrasion tips are coated with Silicon Carbide that helps in the partial or complete removal of the outermost epidermal layer. We also use light therapy with the Orbital Microdermabrasion to stimulate collagen production, enhance blood circulation, and promote cell renewal.
The final step in the procedure involves the application of a Hydratone gel mask blended with rose water and Hyaluronic acid that leaves the skin moisturized. While the mask is being applied, active Microcurrent rollers are used for massaging the face. It is a rejuvenating therapy that brings a softer and youthful look to the skin.
Aftercare advice is a part of our treatment procedure. Our aestheticians recommend the use of SPF 30 sunscreen for a week on the face. They also advise against using make-up, heat treatments, shaving, fake tanning, or sunbathing up to a few hours after the treatment.
November 30, 2021
7 Amazing Benefits of Hijama Hijama Therapy Cupping is an ancient Chinese remedy that the Egyptians also employed. Cupping promotes life force energy in the body […]
March 30, 2020
Cupping therapy for high blood pressure One of the most dreadful health conditions – high blood pressure or hypertension as some call it, affects millions of […]