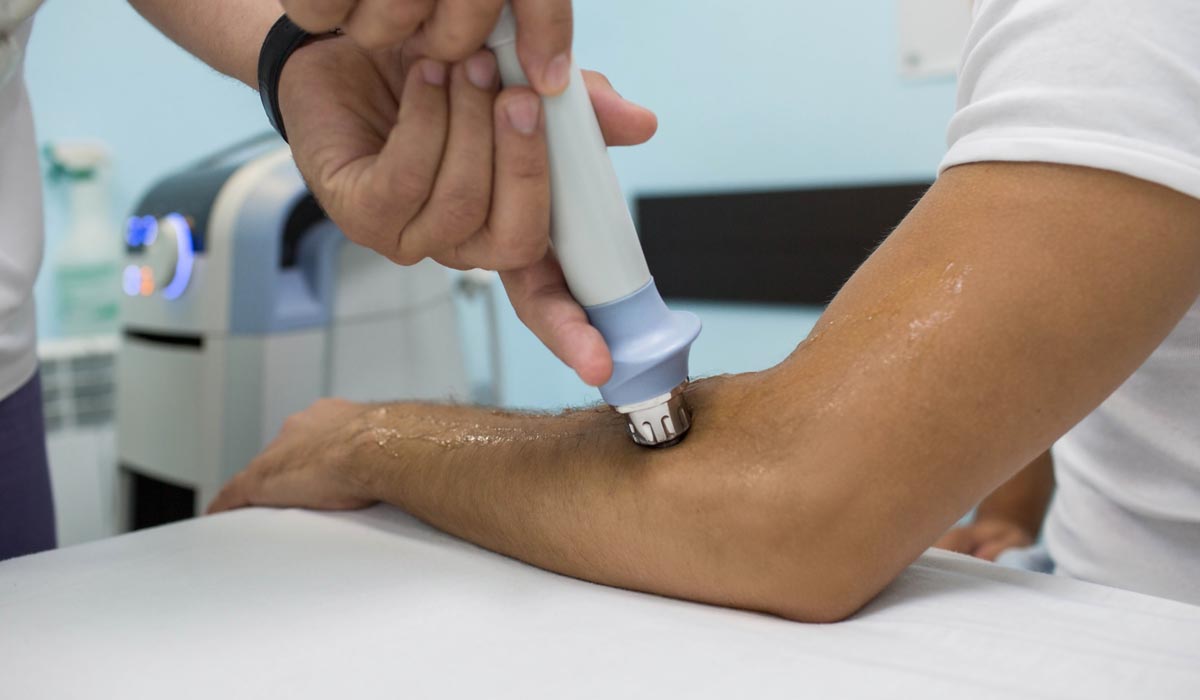 Shockwave Therapy or Extracorporeal Shockwave Therapy (SWT) is a non-invasive treatment method with multi-disciplinary usage. The technique enables speedy recovery restoring faster mobility by stimulating the cells of the affected area and the body's natural healing process with energy pulses. The method also offers quicker pain relief. It is used by different branches of medicine, including sports medicine, orthopedics, urology, physiotherapy, veterinary medicine, and more.
In which medical conditions is Shockwave Therapy used?
SWT is primarily used for conditions that impact medium or large tendons alongside bone insertions or musculoskeletal disorders like:
Tennis Elbow or Lateral Epicondylitis
Golfer's Elbow or Medial Epicondylitis
Osteoarthritis in the knee
Greater trochanteric pain syndrome
Morton's Neuroma
Chronic Stress
Jumper's Knee or Patellar Tendinosis
Non-union Fractures or long bone fractures
Hip Pain
Calcifications 
Achilles Tendonopathy
Plantar Fasciitis
Head Spur 
Retrocalcaneal Bursitis 
Adhesive capsulitis
Insertional Pain
Avascular necrosis of femoral head
Benefits of Shockwave Therapy
There are various reasons why practitioners and patients progressively prefer SWT. These are:
It is a non-invasive, non-surgical method.
The process has no side effects.
The therapy helps improve blood circulation that works effectively in the regeneration of damaged tissues. Thus, SWT accelerates healing.
The procedure is simple and non-complicated.
It is affordable.
How can 7DMC help?
The Department of Sports Medicine & Orthopaedics at 7DMC has qualified and experienced sports medicine doctors with expertise in non-surgical methods. We have a team for the comprehensive treatment of patients, including our doctors, physiotherapists, chiropractors, acupuncture specialists, and rehabilitation experts. 
The therapy uses high-energy sound waves to treat the affected areas. Issues related to muscles, tendons, ligaments, bones, and capsules are effectively treated with SWT. High-energy acoustic waves are focused on painful spots. The cell membrane permeability and metabolism in the cells are increased. As a result, numerous cavitation bubbles are formed. These bubbles aid in the breakdown of calcific deposits. Acoustic waves also promote bone healing, connective tissue healing, reparative care, and bone regeneration. SWT also reduces pain using the hyperstimulation anesthetic technique and the gate-control system.
Shockwaves have three characteristics:
High amplitude
Non-periodicity, and
Jump pressure change.
In the device, kinetic energy is created by the compression of air. It travels from the projectile to the applicator's tip, then to the transmitter, and finally to the tissue. At 7DMC, the method of application of SWT follows these steps:
Gel, in sufficient quantity, is applied to the area. The gel helps in the smooth delivery of acoustic waves to the site.
The Shockwave Applicator is applied and pressed to the area.
Our experts also advise the restrictions post-treatment, like refraining from physical activity using the treated area for forty-eight hours. They also help patients relax and understand the immediate consequences of the treatment, like slight discomfort. With our experts, patients can look at holistic therapy in no time.
November 30, 2021
7 Amazing Benefits of Hijama Hijama Therapy Cupping is an ancient Chinese remedy that the Egyptians also employed. Cupping promotes life force energy in the body […]
March 30, 2020
Cupping therapy for high blood pressure One of the most dreadful health conditions – high blood pressure or hypertension as some call it, affects millions of […]