Invisalign Treatment in Dubai
We all wish for perfect teeth with a healthy and beautiful smile. It's daunting if you have crowded teeth or teeth with too many spaces in between. Luckily, dental treatment has advanced in the last few decades. Now, we have several different tools and resources at our disposal to help us take proper care of our teeth. Knowing a bit more about dental care and how your actions affect your oral health may help you take better care of yourself and keep you smiling for a long time in the future.
What is Invisalign?
Invisalign is a type of aligner. In simple terms, it is an alternative to conventional braces. It makes use of nearly invisible and removable teeth aligners customized for you to help straighten your teeth. Unlike traditional braces, it does not cause the inconvenience and discomfort of wires and brackets. This method provides almost two times faster treatment. A special type of thermoplastic resin is used to make Invisalign. It applies transient force on your teeth to straighten them.
How does Invisalign work?
Invisalign uses transparent aligners created from computer-generated images and images taken from your mouth to adjust the alignment of your teeth. These images are taken by your dentist and his respective team. Due to its thermoplastic design, it places the precise amount of force on your teeth as required to shift them.
While fixed wires pull your teeth into place in case of the conventional brace, Invisalign gradually pushes your teeth into a better and improved position.
Why Invisalign?
Although there are many other options available to fix crooked and misaligned teeth, no other treatment provides similar convenience and comfort as Invisalign. It can treat a wide variety of conditions such as gaps, crowding, overbite, underbite, and misaligned teeth. Several reasons to choose Invisalign over traditional braces are:
Invisalign transparent aligners use the patented plastic called SmartTrack to straighten the teeth quickly and precisely.
Invisalign is custom trimmed. It does not cut your gums as some other aligners might do.
It uses state of the art 3D scanning, and printing technology
Invisalign aligners are approved and categorized as medical devices by the U.S. Food and Drug Administration (FDA).
Advantages of Invisalign
There are several advantages of using Invisalign over other orthodontic solutions. Some of them are mentioned below:
Virtually invisible aligners
Uses patented plastic material
Smooth and comfortable
Does not affect speech
Detachable and easy to clean
Minimum maintenance required
Fewer dental visits
Almost 2x faster results
Why choose Invisalign at 7DMC?
At 7DMC, a proper diagnosis of your situation is done to provide you with the best treatment plan for Invisalign. Our experienced and certified dentists take all the necessary steps and provide clear instructions to the lab technicians to customize your aligners.
Your progress will be closely monitored throughout the treatment duration and necessary adjustments will be made. We recommend that you schedule a consultation with our specialist to decide on the best treatment for you. This may help you become comfortable not only with the doctor but also with our office environment and staff.
Invisalign FAQs
Is Invisalign suitable for everyone?
Invisalign can be used on most teenagers and adults to align teeth.
However, some cases need more precision, like the closing of the extraction area, or teeth with bad bone levels. In such cases, greater control over tooth movement is required and may be difficult to accomplish with a removable aligner. These cases are better treated with other orthodontic solutions like fixed braces, or partial fixed solution along with Invisalign.
In any case, the patient's agreement is of the utmost importance in achieving good outcomes. If you are not comfortable wearing removable aligners, it is recommended to go for fixed braces instead.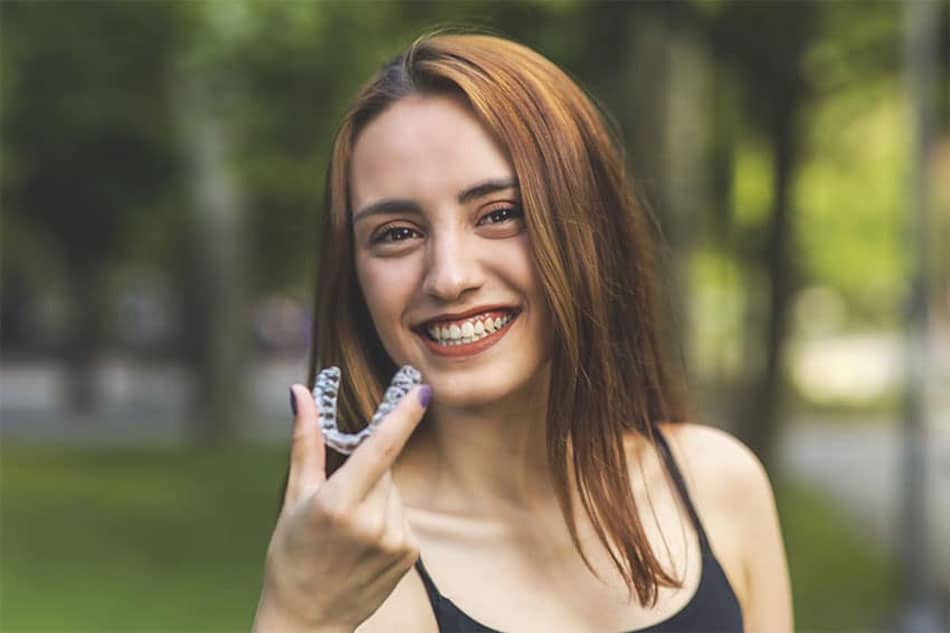 How long should I wear Invisalign a day?
Invisalign is worn for at least 20-22 hours per day for two weeks before changing them. However, it also depends on the complexity of the case. You don't need to wear the aligners while eating or drinking, especially colored foods.
You can easily remove it and place it back when you feel the need to do so. For instance, you can remove it while brushing or flossing, or for special occasions.
Invisalign treatment usually takes approximately 12 to 18 months. It also depends on the particular case, the type of teeth correction, and your unique set of requirements.
Are there any restrictions on what I can eat while wearing Invisalign?
There are no diet restrictions while wearing Invisalign. You are free to eat what you wish. However, it is ideal to remove it while consuming colored foods, especially colored liquids.
Unlike traditional braces, where you can't consume certain foods as they might get stuck in your braces, Invisalign does not have any food restrictions.
Can I talk normally with Invisalign?
Initially, it might take some time for your tongue to get adjusted to the aligners, but that is only temporary.
These invisible aligners are ideally built to match your current dental structure. Hence, Invisalign will not obstruct or affect your speech.
Is Invisalign treatment painful?
Invisalign is the most efficient way to straighten your teeth. It does not involve wires or metal braces. The treatment is pain-free and comfortable. It is really simple to wear and remove.
Nonetheless, you may briefly experience slight discomfort for a few days once the aligners are fitted on your teeth. This might feel more like pressure on your teeth rather than physical pain. This is perfectly normal with Invisalign.
Consult your doctor in case of any concern and discomfort.
How to take care of Invisalign aligners?
Your aligners must be clean and hygienic before you place them in your mouth. Below are a few steps on how to take care of your aligners:
You can use the Invisalign Cleaning System to clean your aligners. Alternatively, you may take advice from your doctor on how to maintain it.
You can clean the aligners using a toothbrush and toothpaste in lukewarm water. Do not use hot water on Invisalign as it might permanently distort the plastic.
Clean your mouth after every meal before putting on your aligners. The food residue left in your mouth may stain your aligners. Cleaning your mouth every time after eating food also prevents cavities.
In case you lose, break, or damage your Invisalign, consult your doctor, and get a replacement.
How much does Invisalign cost in Dubai?
Invisalign charges are calculated by the intricacy of the case. A simple case may need fewer adjustments and aligners and therefore the cost involved might be less as compared to a more complicated case.
Charges also differ from region to region. In Dubai, the cost is defined by Invisalign Middle East and may be different from other countries.
To get an estimate of the cost for your specific case, book an appointment with our specialist in 7DMC Dubai.
Conclusion
Everyone wishes for good dental health and a great smile, but many of us require some help to achieve it. With simple orthodontic devices called aligners, more and more people are succeeding in gaining a beautiful smile.
Invisalign is a set of clear, removable aligners that progressively straightens your teeth. It does not involve brackets and wires and is free from the limitations of metal braces. They are virtually invisible and use patented thermoplastic. As every case is unique, it is custom designed as per your need.
With almost no limitations, it is easy and comfortable to wear. It is custom-designed and fits your dental structure perfectly providing the best and faster results. It is the most preferred choice for teens and adults as it is virtually invisible.
What tends to work for one individual may not work for another. Hence, it is important to make sure that Invisalign is the best way to straighten your teeth. To find out if Invisalign is the best method for you, consult your dentist.
References:
www.invisalign.ae/en/
www.absolutedental.com/blog/pros-cons-of-invisalign-braces/
www.invisalign.com/frequently-asked-questions
www.webmd.com/oral-health/guide/invisible-orthodontic-aligners#1