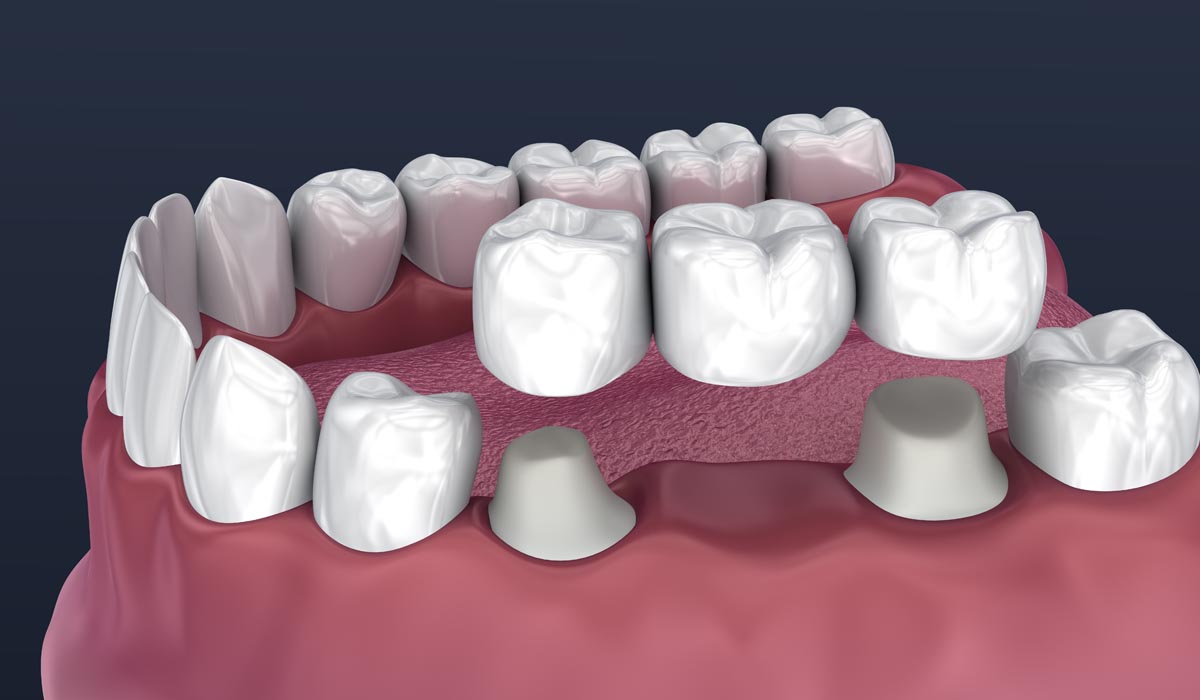 Crowns and bridges are the most convenient ways to restore or fix your missing or broken teeth. They are treatments that use prosthetic tools to restore your smile to its original condition. 
Crowns
A crown is a moulded tooth made of ceramic(s) that can suit your natural teeth. 
Crowns can also be composed of gold compounds to enhanced durability when substituting a posterior tooth. 
A metal crown often comprises porcelain tied to the surface to deliver force and a natural appearance.
Bridges
A bridge represents a prosthetic device that substitutes missing teeth. 
Often, bridges are composed of porcelain combined with metal to deliver both durability and a natural appearance.
Types Of Crowns & Bridges
Dental crowns (depending on the materials employed) have the following types: 
Porcelain combined with metal: A dental crown is stronger than conventional porcelain and repairs the frontal tooth. 
Base metal mixtures: They are non-noble metals that are immune to abrasion and generate highly durable crowns.
 
Gold alloys: They are a mixture of metals, like gold and copper, making them hard to break or erode..
 

  Types of Dental bridge:

Traditional dental bridges utilize dental crowns on one facet of the hole, holding the false teeth in alignment.  Cantilever bridges are similar to the traditional procedure, but only one side of the false teeth has an abutment holding it. Maryland Bridges comprises either metal or ceramic structures that keep the pontic tooth in order. Implant-supported bridges are employed when more than one tooth is lost.

  Purpose of dental crowns and bridges

Crowns and bridges are convenient restorative treatments to repair several myriad dental problems.

A crown is employed when:

a tooth is cracked or broken
an extreme form of decay made a tooth weaken
a tooth turns seriously stained
a tooth becomes twisted
a dental bridge requires support.
 

  Dental bridges are used:

to reinstate a lost tooth or teeth.
As a plausible solution when dentures remain unbalanced, painful, or uncomfortable.

  

One important note when you have a crown and bridge is taking proper dental care. If the bone or teeth that keep the crown and bridge in place are damaged, they will lose strength and support.

 

It is also necessary to often visit your dentist for a check-up to identify any problems beforehand, thus enabling them to be fixed before they induce pain.

  How can 7DMC service help?

Our dentists will assess your teeth condition and determine whether you're suitable for a crown or bridge. Based on the severity of your teeth or tooth problems, our dentist will adopt a restorative procedure. In addition, we have experts in dentistry who will guide you on all the necessary tips related to your teeth so that you can smile without worry.

Once a crown or bridge is attached, stick to a consistent and effective dental hygiene habit. For example, brush and floss 2-3 times every day and take special care around the crown or bridge area to avoid decaying. 
Avoid glutinous foods, like sweets and candies, and inappropriate usage of teeth.
Use a dental floss threader for cleaning beneath the bridge.
 

Often, they last between 7-15 years, but it's subjective to the consistency and regularity of your oral hygiene. Book your appointment with our certified dental expert and get relief from all issues related to dental.
November 30, 2021
7 Amazing Benefits of Hijama Hijama Therapy Cupping is an ancient Chinese remedy that the Egyptians also employed. Cupping promotes life force energy in the body […]
March 30, 2020
Cupping therapy for high blood pressure One of the most dreadful health conditions – high blood pressure or hypertension as some call it, affects millions of […]