The Wonders of Dental Veneers
Damaged or stained teeth can influence a person's self-esteem and confidence. The aesthetic of the teeth can be improved by dental veneers. They're a common solution for those with damaged teeth, space between teeth, or deformed teeth.
When a tooth is cracked or damaged, few people only need one veneer, but most individuals need six to eight veneers to achieve an equal, balanced smile. Veneers are most typically used on the upper front of teeth.
Dental Veneers
Dental veneers are small custom fittings that dentists use to improve the look of teeth. Veneers can conceal discolored, damaged, or misaligned teeth. They may be advantageous for patients who desire a long-term resolution to cosmetic difficulties, especially if previous dental treatments, like tooth whitening, aligners, or retainers, haven't worked.
Types of Dental Veneers
Porcelain and resin-based composite veneers are the two main types.
Porcelain veneers – These are hard, thin covers that can be applied to the tips and edges of teeth by a dentist. Before attaching them, the dentist will scrape little enamel from the teeth. Although porcelain veneers are about the same color as natural teeth, they can be whitened to accentuate the smile. Porcelain veneers also have a somewhat more natural aspect and can conceal teeth that are discolored or deformed.
For dental restorations, porcelain is the most cosmetic and least hazardous material known. It's also the most durable and long-lasting of all veneers. Porcelain laminate veneers are exceptionally biocompatible, this implies they rarely cause harm to the gum tissues and soft tissues surrounding the teeth.
Resin-based composite veneers – They are quite similar to porcelain veneers, however, they are less costly and need less enamel extraction. Before inserting the composite veneer, a dentist may not need to peel any enamel at times. These veneers are typically easier to fix if cracked or damaged.
Composite veneers are composed of resin composites, which are made up of a combination of inorganic and organic components. The activator, resin (binder), and coupling agent form the natural materials. The filler is the most important inorganic component in composite resin.
Veneers are different from crowns or implants. They are thin shells that surround the front of the teeth, while implants are tooth replacements that replace the complete tooth. Crowns also completely encapsulate the tooth, whereas veneers simply cover the front area.
Advantages and drawbacks of dental veneers
Dental veneers offer a variety of potential advantages, and that is why they are among the most preferred cosmetic dentistry procedures.
Veneers are a simple cosmetic solution.
It is an effective approach to make your teeth look better.
It is a minimally invasive cosmetic procedure.
Dental veneers are simple to maintain.
They are long-lasting and durable.
Enamel loss can be treated with veneers.
Like everything else, there are certain disadvantages of dental veneers.
Veneers, particularly porcelain veneers, are costly.
Despite their appearance, veneers are artificial.
Even though they are fairly strong, they are susceptible to chipping and cracking when subjected to severe force or impact.
They are irreversible.
Due to the scrapping of enamel during the veneering process, your teeth may become more vulnerable to hot or cold foods and drinks.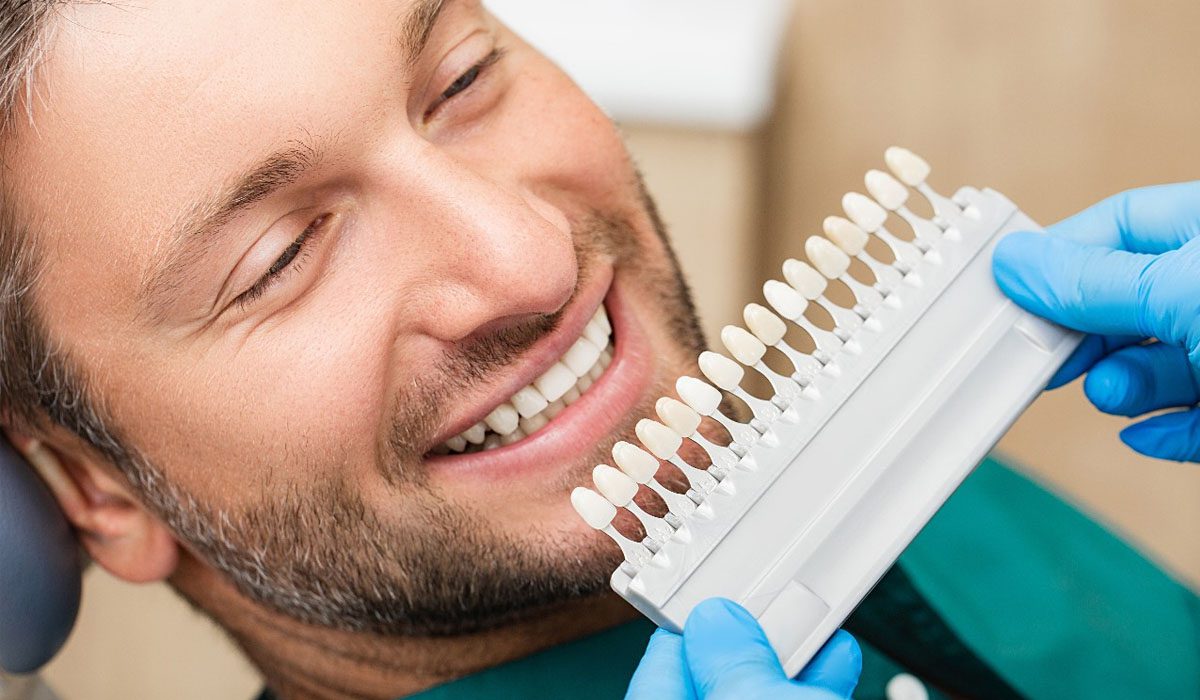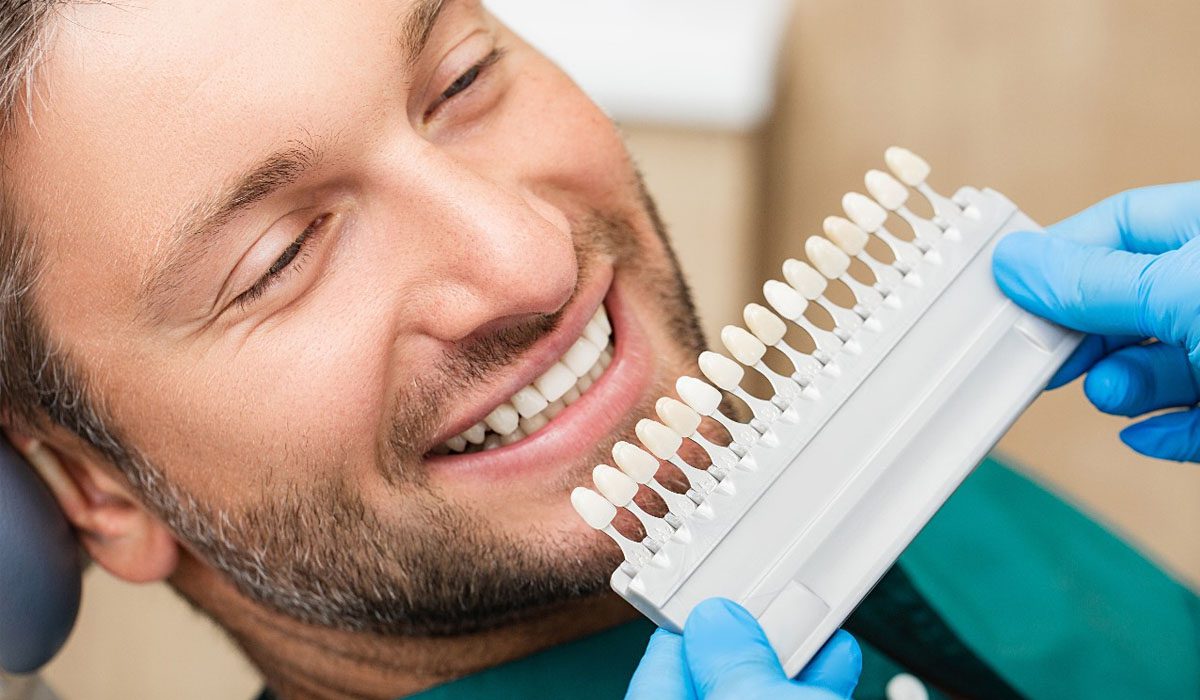 Procedure
Our dentist will most likely take X-rays to assess the health of your teeth first. They'll examine your teeth for symptoms of gum disease, decay, cavities, etc. You may not be a contender for veneers if these issues exist.
The dental veneer treatment is determined by the type of veneer used.
Before placing porcelain veneers, a dentist will shave little enamel and obtain an imprint of the teeth to make a mold. They will send the imprint to a laboratory that will build the veneer as per the patient's need. During this time, temporary veneers may be placed on the teeth. Once the veneers are ready, they will be checked for fit and color, and necessary modifications will be made if required. The veneers are then attached to the teeth by the dentist.
In the case of resin-based composite veneers, the dentist will begin by scrubbing, contouring, and prepping the teeth. They will bind and mold the composites after preparing the teeth, altering the color such that the veneers appear realistic. The dentist will next dry and solidify the composite with a light. Once the veneers are solidified, the specialist will level and polish them to give a more natural look.
Veneers aftercare
Unlike other dental treatments, the healing time is relatively short. Instead, after the veneers are bonded in place and any anesthetics have worn off, you can eat freely.
At times, rough spots on the veneers may be visible. This should get better with time. If otherwise, you can have your teeth smoothed by our dentist. Rough spots are commonly caused if too much bonding substance on the veneers is applied.
After the fresh dental veneers are placed, you need not avoid any certain foods or beverages. However, as veneers may discolor over time, you must limit tea, coffee, and red wine, and other foods that might stain teeth, to ensure that they last as long as possible. Some other precautions to be taken are:
Avoid chewing with your front teeth.
Do not use your teeth to open condiment packets or other packages.
Get a brace or retainer to safeguard your veneers if you bite your teeth at night.
Hard things, such as ice, pens, or fingernails, should not be chewed.
Use a mouth guard while playing sports.
Furthermore, even with veneers, your teeth can still acquire cavities, so regular oral hygiene, such as brushing twice a day and flossing regularly, is essential. The length of time veneers last depends on the materials chosen by the dentist as well as how the patient takes care of them. Time frames for replacing veneers must be discussed with our dentist.
At 7DMC, we offer world-class dental treatment in a pleasant atmosphere using cutting-edge technologies. Our skilled dentists work hard to ensure that our patients are tension-free while receiving dental treatment in a friendly and secure atmosphere. We value, empathize, and engage with our clients and staff members to improve the lives of everyone involved in attaining our purpose.
Conclusion
Dental veneers are a type of dental treatment that improves the look of your teeth. They can enhance the color of your teeth, give them a more natural form, close gaps, and conceal cracks and other small defects.
Dental veneers are a perfect solution for your damaged teeth, but before getting them, it's vital to weigh the benefits and drawbacks. Consult our dentist to see if dental veneers are the best option to do wonders to your smile.
References
https://www.healthline.com/health/dental-veneers
https://www.medicalnewstoday.com/articles/dental-veneers
https://www.webmd.com/oral-health/guide/veneers