Non-surgical stretch marks removal treatment
When it comes to body aesthetics, one of the most common problems people complain about is the appearance of stretch marks. To start with, we must tell you that stretch marks are completely natural and that they are not a sign or symptom of any disease. But, yes, we do understand that they are not the most appealing thing to look at. Let us look at how you can get rid of stretch marks easily, and more importantly, safely.
Before we let you know about the remedies, you need to understand what you are dealing with. This involves having an understanding of what exactly stretch marks are and what causes them.
What Causes Stretch Marks?
Stretch marks, or striae as they are medically known as are essentially scars on your skin that are characterized by their off-colour hue. They appear when your body goes through some rapid growth or shrinking stage, such as pregnancy, puberty, or weight loss. 
They can form on your things, shoulders, underarms, lower backs, butt, breasts, and hips. As you can see, they are usually seen in those areas that store excess fat.
When your body goes through rapid growth or shrinking stage, the dermis of your skin (the layer of the skin between the epidermis and subcutaneous tissues) tears up, resulting in the formation of stretch marks. They usually look like purple or reddish lesions.
From a safety point of view, they don't pose any threat to your health. However, in some people, these marks can cause subtle itching or burning sensations. The more concerning part is that they cause a lot of emotional distress in the person. Those who have stretch marks suffer from body confidence issues and self-doubt. 
Thankfully, stretch mark treatments are now available in various reputed and certified skin clinics around the globe.
Best Medical Treatments for Stretch Marks Removal
Now, if you go online, you will come across many home remedies to cure stretch marks. From using sugar as an exfoliator to drinking ten glasses of water, from using aloe vera gel to applying potato juice, from making a mix of egg whites to using tretinoin cream, the internet is filled with a bunch of tips to remove stretch marks. 
However, they are not 100% effective. Besides, they take a lot of time to show even minimal results. This is why it is important to adopt a scientific and medical approach to deal with this issue. 
Here, in this article, we are going to discuss two of the most technologically-advanced treatments for stretch mark removal are as follows:
Cellina RF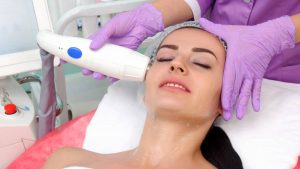 Operating on the principle of radiofrequency, Cellina PR (Pigment Reduction) is an energy-based system that facilitates collagen regeneration. This results in diminishing stretch marks effectively.  
It uses various cutting-edge technologies to deliver RF energy to both the dermis and epidermis layer of your skin. 
The tools used in Cellina RF include RF subcision, RF fillers, RF microneedle, RF sublative, and RF thermolysis, among others. It is an extremely convenient and time-saving instrument since it doesn't have to change the operational environment to shift from an epidermal to a dermal session or vice-versa. Its ability to deliver fast results makes it appear in the front row when it comes to the stretch mark removal treatments. 
It has been designed keeping in mind the safety of your skin. As such, you don't have to worry about PIH (Post-Inflammatory Hyper Pigmentation) when you are using it. If you are concerned about whether it would be good for your skin, let us assure you that it can be used on any skin type, which is also one of the biggest plus points of this treatment.
Plasma Pen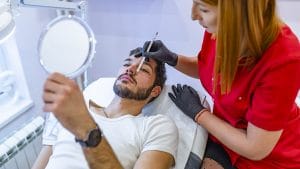 Plasma Pen is one of the newest skin rejuvenating technologies that is being increasingly used by medical practitioners to remove stretch marks. 
Non-invasive by nature, this instrument targets the dermal layer of your skin, thereby, accelerating the production of collagen. With the increased production of collagen, new skin cells are generated, which reduces the visible stretch marks. Besides, it also helps in activating and releasing essential proteins in your dermis, which are crucial for your skin's overall health.
Plasma Pen can be used on almost every part of your body. Apart from stretch marks, it also helps in jawline and forehead tightening, improving overall skin tone, and reducing fine lines and wrinkles. When compared to cosmetic surgeries, Plasma Pen is way more feasible and safe in the long run.
Both Cellina RF and Plasma Pen are trustworthy technological instruments that are the results of years and years of research. However, as we stated earlier, you should use them only under the supervision and guidance of medical personnel at certified clinics and institutions. 
Speaking of medical institutions, let us now focus on what medical practitioners have to say regarding the medical treatment for stretch mark removal.
Expert's Opinion on Stretch Mark Treatments
Compared to cosmetic surgeries and home remedies, these two non-surgical treatments are way convenient. Unlike the home remedies, these treatments bring results way quicker and unlike cosmetic surgeries, Plasma Pen, Cellina RF, or the other non-surgical treatments provide an effective result minus knives and side effects!
A number of medical practitioners are suggesting the non-surgical treatments for delicate parts of the body like skin! Let's learn what Dr. Branka Adzic, aesthetician and a member of the American Board of Aesthetic Medicine and Anti-ageing has to say regarding how to cure stretch marks.
As you can see, we, at 7DMC, employ the most digitally advanced tools and mechanisms to get rid of stretch marks so that you flaunt your smoother and brighter skin without any marks on it. From using Cellina RF to Plasma Pen, and even AQ Growth Hormones, our stretch mark removal treatments are results of high-end research. We ensure the marks get diminished significantly, leaving your skin spotless.
After Thought
Stretch marks can play a huge role in hindering one's confidence. Although they don't pose any risk to your health, they are emotionally scarring.
We, at 7DMC, are a champion of aesthetic treatment. We celebrate beauty in all its shapes and forms, and we believe our job is to provide a helping hand to everyone who wants to adopt a safe, scientific, and supervised procedure to deal with their body issues. Thus, for those of you who want to get rid of their stretch marks, we are always at your service.
So, book an appointment, visit our clinic, and consult our experts to start your journey towards a flawless skin without any stretch marks.
References
Amanda M. Oakley and Bhupendra C. Patel – NCBI – Stretch Marks (Striae). Available at:
https://www.ncbi.nlm.nih.gov/books/NBK436005/
Ud‐Din, D. McGeorge, and A. Bayat – PMC – NCBI – Topical management of striae distensae (stretch marks): prevention and therapy of striae rubrae and albae. Available at:
https://www.ncbi.nlm.nih.gov/pmc/articles/PMC5057295/
Uwe Wollina and Alberto Goldman – PMC – NCBI – Management of stretch marks (with a focus on striae rubrae). Available at:
https://www.ncbi.nlm.nih.gov/pmc/articles/PMC5782435/
Lotte Poulsen, MD, Andrea Pusic, MD, MSc, Sam Robson, MBChB, MRCGP, BCAM, Jens Ahm Sorensen, MD, Ph.D., Michael Rose, MD, Claus Bogh Juhl, MD, Ph.D., Rene Klinkby Stoving, MD, Ph.D., Alin Andries, MD, Ph.D., Anne F Klassen, DPhil – Oxford Academic – The BODY-Q Stretch Marks Scale: A Development and Validation Study. Available at:
https://academic.oup.com/asj/article/38/9/990/4955176
Mohamed L Elsaie, Leslie S Baumann, and Lotfy T Elsaaiee – ResearchGate – Striae Distensae (Stretch Marks) and Different Modalities of Therapy: An Update. Available at:
https://www.researchgate.net/publication/24375828_Striae_Distensae_Stretch_Marks_and_Different_Modalities_of_Therapy_An_Update
Haider Ali Hussain, New Age Skin Research Foundation, Fresh Meadows, NY, United States; Joshua Fox, MD, Advanced Dermatology PC, Fresh Meadows, NY, United States; New Age Skin Research Foundation, New Age Skin Research Foundation, Fresh Meadows, NY, United States; Rao Saladi, MD, New Age Skin Research Foundation, Fresh Meadows, NY, United States – Journal of the American Academy of Dermatology – Stretch marks and treatment efficacies. Available at:
https://www.jaad.org/article/S0190-9622(11)01358-2/abstract