Plasma Pen Treatment
Under-eye wrinkles have been the reason for our worries ever since we can remember. Over the years, people have tried everything from cosmetics, injections, lasers, and surgical treatments, among others, to get rid of them, but none have been as feasible and effective as the treatment we are going to talk about. We are talking about plasma pen treatment.
Infused with advanced technology and the inputs of skilled professionals, this is one treatment that is going to completely change the way you have been dealing with under-eye wrinkles. Now, because this is a fairly new mode of treatment, we are sure that you are wondering what it is all about or whether it is safe or not, or when can you opt for it and from where. Don't worry! We have got you covered. You will find the answers to these questions and more all under this space. So, stay hooked!
What is Plasma Pen Treatment?
Plasma pen treatment is a brand-new revolutionary concept in the medical world that has proven its worth in the field of skin tightening and skin lifting. This non-invasive procedure is known for treating loose skin, combating loss of collagen, and reducing wrinkles. It is mostly used around your mouth, eyes, and neck. 
This treatment is based on the concept of targeting fibroblasts. Wondering what they are? Fibroblasts are a type of biological cell that help synthesize collagen and extracellular matrix. These protein-producing cells are present in your dermis, which is the layer of the skin just below your outermost skin layer. Fibroblasts play a vital role in the healing process of your skin wounds. Besides, they help keep your skin firm and tight.
Now what the plasma pen therapy does is that it uses a pen-like device to discharge electric current of high frequency into the affected area (in this case, your under-eye wrinkles) of your skin. For this purpose, this treatment is also known as plasma fibroblast therapy and plasma skin resurfacing.
We understand that some of you may feel a bit apprehensive about hearing that you will get electric shocks. But, it is not as intimidating as it sounds. 
First of all, the electric signals will be too low for you to encounter any pain and secondly, the tip of the plasma pen doesn't touch your affected skin directly. Instead, it releases a targeted current over the affected area. The released current leads to the creation of tiny holes (micro-injuries) in your skin's layer. 
Ever since its introduction, the cosmetic industry has spread its wing to welcome it because of how safe and effective it is. 
What are the Benefits of Plasma Pen Treatment?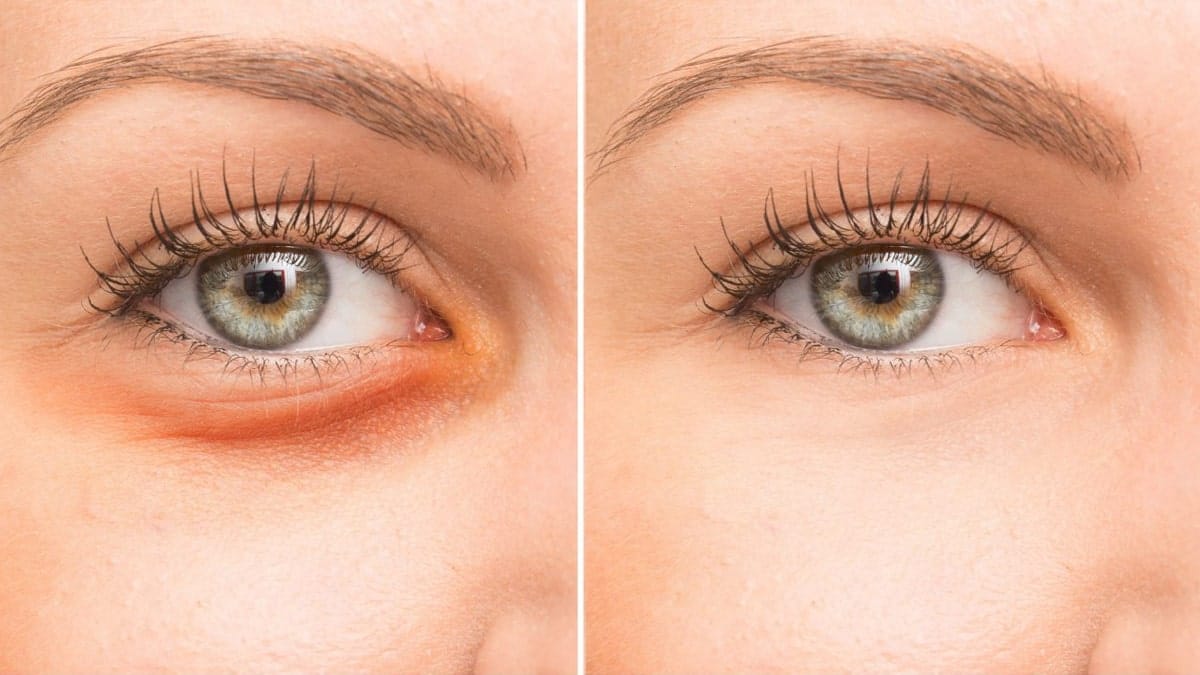 There is a reason why plasma pen treatment has been universally praised. In a recent article published in the year 2019 by PMFA, it was deduced that the heat damage or thermal disruption from the plasma pen treatment helps in:
Regenerating skin tissues
Tightening skin tissues
Stimulating fibroblast activity
Breaking down skin proteins
Improving skin texture
Going under the knife to combat under-eye wrinkles is truly asking for a lot, and many would ideally prefer a non-invasive treatment to get rid of under-eye wrinkles, and plasma pen treatment allows you that luxury.
Some of the most common skin issues that can be corrected with the help of this treatment are as follows:
Under-eye wrinkles
Eyelid wrinkles
Jawline wrinkles
Neck wrinkles
Wrinkles above the lips
Seborrheic keratosis
Age spots
Besides, cosmetic specialists across the globe are using this fibroblast-based therapy to make lips look fuller as well.  It has also been seen that it can help in some degree of skin facial contour changes as well.
How is the Plasma Pen Treatment Conducted?
Based on where you get this treatment from, there will be some minute changes. However, the basic procedure of plasma pen treatment involves the following steps:
After getting a consultation on the condition of your under-eye wrinkles from a certified dermatologist, you will be given a date as to when the procedure will be conducted. At this stage, your dermatologist will take a close look at the severity of the wrinkles and take action accordingly.
First of all, the dermatologist will cleanse your skin and apply a numbing topical anesthetic cream or gel under your eyes or on the affected area. 
You then have to wait for around half-an-hour for the numbing cream or gel to settle in. This would minimize any painful sensations.
Next, the treatment with the plasma pen will begin. Using this specialized pen, your dermatologist will create tiny arcs of micro-currents on the affected area. As a result, you will notice tiny scab-like dots on your skin.
The numbing cream or gel will then be removed from your skin.
A cooling gel will then be applied to the affected area to soothe any burning or tingling sensation that you might be feeling after the procedure.
The entire procedure takes anywhere between 30-60 minutes depending on the severity of your wrinkles. Usually, the effects of plasma pen treatment last up to one year. This means that for one whole year, this treatment will stimulate the fibroblast production in your facial skin to ensure it stays nice, firm, and tight. 
It should be noted that everyone's skin may not react in the same way to this treatment. Some people see the positive results after just one treatment, but for some, it might take up to three treatments to see the results.
Is Plasma Pen Treatment Safe?
When it comes to determining the safety of plasma pen treatment, it must be noted that this is a fairly new aesthetic procedure. Researches are still going on, but as of now, it has been considered mostly safe due to the minimal side-effects. 
However, we can't stress enough on the fact that you must undergo this treatment at a certified dermatological clinic. Before undergoing the process, you must thoroughly speak to your dermatologist regarding any skin concerns that might have had in your past. He or she will then assess whether you are the right candidate to undergo this treatment or not.
Immediately after the treatment, you can expect tiny dots to scab over and fall off after around a week or so. But this is nothing out of the ordinary. However, if you experience anything more than that, you need to immediately consult your dermatologist.   
We hope this has given you a fair idea as to how you can combat your under-eyes wrinkles with the help of plasma pen treatment. A non-surgical method to eliminate one of the most common facial skin problems is always something that you go for and this ultra-modern technique is one of the best options in the category. 
Before we let you go, take a look at how 7DMC has been utilizing the ultra-modern plasma pen to answer your various skin issues.
References
Wade Foster, Ronald L Moy, and Edgar F Fincher – Research Gate – Advances in plasma skin regeneration. Available at:
https://www.researchgate.net/publication/23254628_Advances_in_plasma_skin_regeneration
Mathew M Loesch, Ally-Khan Somani, Melanie M Kingsley, Jeffrey B Travers, and Dan F Spandau – NCBI – Skin resurfacing procedures: new and emerging options. Available at:
https://www.ncbi.nlm.nih.gov/pmc/articles/PMC4155739/
Fatemeh Ahmadraji and Mohammad Ali Shatalebi – NCBI – Evaluation of the clinical efficacy and safety of an eye counter pad containing caffeine and vitamin K in emulsified Emu oil base. Available at:
https://www.ncbi.nlm.nih.gov/pmc/articles/PMC4300604/
Ruta Ganceviciene, Aikaterini I. Liakou, Athanasios Theodoridis, Evgenia Makrantonaki, and Christos C. Zouboulis – NCBI – Skin anti-ageing strategies. Available at:
https://www.ncbi.nlm.nih.gov/pmc/articles/PMC3583892/
Shoubing Zhang and Enkui Duan – NCBI – Fighting against Skin Aging. Available at:
https://www.ncbi.nlm.nih.gov/pmc/articles/PMC6047276/
Eleonora Cipriani, Sara Bernardi, and Maria Adelaide Continenza – Research Gate – Wrinkles: origins and treatments. Available at:
https://www.researchgate.net/publication/299759906_Wrinkles_origins_and_treatments