Non-Surgical Treatment for Nasolabial Folds and Marionette Lines
Nasolabial Folds and Marionette Lines are often called "puppet lines", "smile lines", or "laugh lines". Variations in genes, natural decline in elastin and collagen, recurrent facial movements, and loss of density in the face all contribute to the appearance of these lines and folds.
Modern cosmetic techniques provide a selection of non-surgical treatments that can be performed alone or in combination to minimize nasolabial folds and marionette lines and prevent more invasive medical interventions. If you're in the early phases of aging and such lines are bothering you, you don't have to rush into surgery. Our certified surgeon is the right person to guide you on the therapies that would be most beneficial to you.
What are Nasolabial Folds and Marionette Lines?
The lines that run from the nose to the mouth are known as nasolabial folds. These develop as the area's skeletal and fat structures alter. Nasolabial creases can also form as a result of frequent facial expressions, decreased collagen formation, and fat breakdown.
On the other hand, marionette lines are creases that appear on the face as a result of normal aging. These are straight lines that form between the lips and the chin, causing sagging in the lower part of the face. Since the skin around your lips is thinner than the remainder of your face, it is more prone to wrinkles.
Gravity, muscle fatigue, and the depressor muscles at the edges of your mouth are three main elements that contribute to marionette folds and lines. Every day, gravity has an impact on your face. Your cheekbones and face begin to slide downward and inward over time. This causes your cheekbones to bend over, resulting in nasolabial folds and marionette lines.
Volume loss is the second most common cause of marionette lines and folds. It can be the soft tissue volume decrease, in which fat skin gets lighter, or the loss of bone volume.
The persistent activation of the depressor muscles in your mouth corners is the final factor that contributes to the development of these lines and folds. When this muscle is repeatedly stimulated, it gives the appearance of a sad face. Many people unwittingly utilize this muscle, which causes their mouth edges to dropdown.
Nasolabial Folds and Marionette Lines Treatment
Although nasolabial folds and marionette lines are an aesthetic concern, they are not a health risk for any disease and do not necessitate treatment. Some people opt to get rid of these lines if they are particularly prominent. The presence of these folds and lines can be reduced or eliminated with some cosmetic techniques. Few non-surgical treatments include:
Dermal Fillers
Dermal fillers are a kind of non-surgical aesthetic procedure that can be used to reduce wrinkles, add volume, and change the lines of the face. It is one of the most popular aesthetic techniques due to its quick results, low risk, and quick recovery time.
Dermal fillers are injected into various parts of the face and head with a syringe. They are commonly injected into the neck, face, and hands, giving them a fuller, finer, and more youthful look. The type of dermal filler used and the intended results specify the amount, placement, and depth of injections. As the fillers are available in various densities, our skilled specialists will evaluate the intensity and depth of your lines and folds before recommending the best option for you.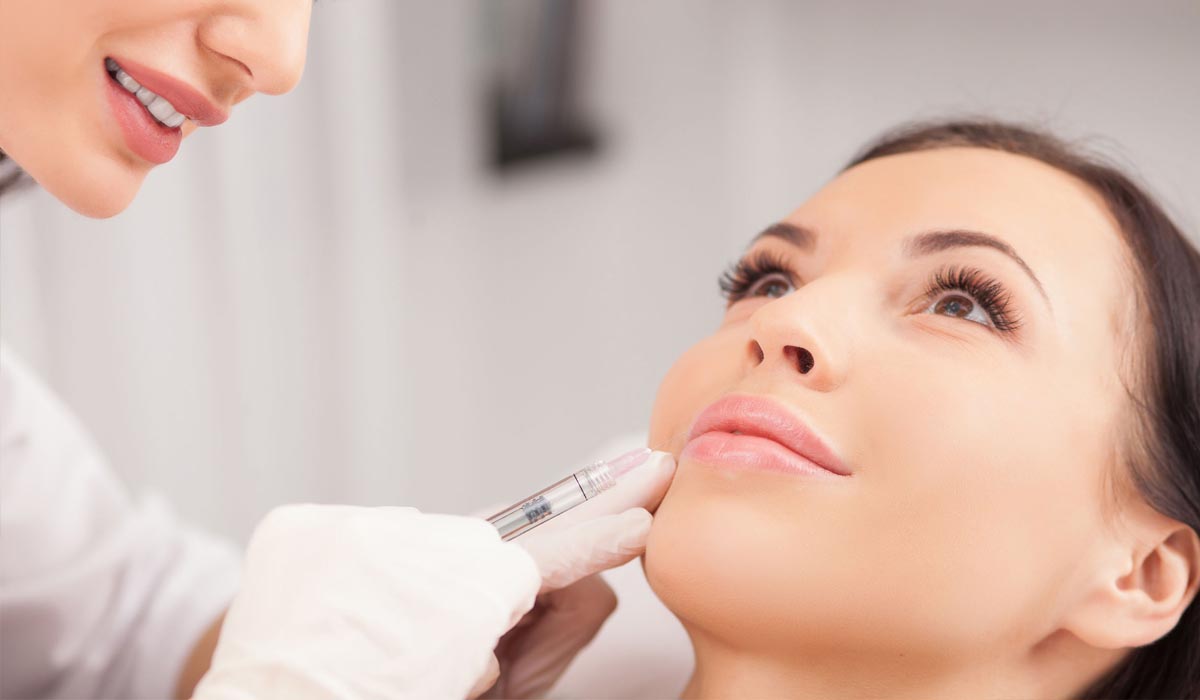 Non-surgical Skin Tightening
The appearance of nasolabial folds and marionette lines is also influenced by drooping skin. As a result, our surgeon may suggest a series of ultrasound and/or radiofrequency treatments to gently tighten the skin around your cheeks, mouth, and jaw. In recent times, skin tightening techniques have grown in popularity as a non-invasive option to address skin sagging and enhance skin quality.
These treatments warm the skin's dermal layer, stimulate collagen formation while avoiding damage to the outer layer, resulting in an elevating and tightening impact. Non-invasive skin tightening might be an excellent alternative for people whose lines and folds are still very minor, as it has a low risk with little or no recuperation.
Microneedling
Microneedling is a non-surgical procedure that restores skin texture. It diminishes the impression of creepy skin, decreases small wrinkles and fine lines, and lowers hyperpigmentation. A power hand piece is used to produce microscopic channels in the skin's dermis. This helps to promote the body's own healing mechanism, resulting in the production of elastin and collagen. The folds and wrinkles return to their young state and make those bothersome lines less obvious. Microneedling is usually done in a succession. Some small adverse effects, including redness and swelling, might occur, but they usually go away easily.
Neurotoxin
Neurotoxins, such as Botox and Xeomin, are less evident options to treat such lines. Our specialist may recommend this to prevent the emergence of annoying lines and folds by "relieving" the muscles that force the mouth downwards. Neurotoxins aren't always utilized to address these problems. To ease the muscles around the edges of the mouth and correct the folds and lines, a combination of neurotoxin and dermal filler is often considered.
Are the results permanent?
The sustainability of the results of any treatment is mostly determined by the patient's age, metabolism, exercise, and normal facial blood flow. In the case of dermal fillers, filler in particular parts of the face persists longer than filler in other places. Lip fillers, for example, only last approximately 6 months since the movement in mouths is quite high as compared to other parts.
Filler in less movable areas like the cheeks, on the other hand, lasts around a year. As each product is individually created, some will last more than others. Individual outcomes will always differ as per the patient's specific case and requirements.
Prevention
Facial Exercises – To avoid or postpone the process of aging, exercises such as "facial yoga" and other techniques have recently gained popularity. In principle, these workouts can keep the skin tight and elastic. It may also reduce sagging, loose skin formation, and aging lines. Face and neck exercises, jaw tightening, and other motions meant to tighten and tone the facial muscles are some of the exercises you can practice.
Skincare – It is far easier for the body to prevent itself from something than it is to recuperate after it has occurred. A regular skincare and makeup cleansing routine tailored to your skin type is the greatest skincare alternative for prevention. You'll be more guarded against aging lines if you start your skincare regime early.
Why to chose 7DMC?
We offer a wide range of cosmetic dermatological treatments at our Aesthetics and Dermatology clinic to make your skin glow with health and beauty. Our professionals strive to answer all your questions and address your concerns before administering any therapy. Your comfort is paramount for us.
Our licensed specialists offer excellent results that bear a natural appearance. Their knowledge and technical abilities enable us to be more precise in our aesthetic treatments, allowing us to provide the best results for you. We are one of Dubai's most renowned skincare clinics due to our dedication, high treatment standards, and priority on customer care.
Bottom line
Nasolabial Folds and Marionette Lines are a natural feature of the face and are not a flaw. There is no medical necessity to address them, even though they might develop or intensify over time. The more expressions we show, the more lines form on our faces. When we smile, folds and fine lines around our faces might make us feel insecure. Furthermore, aging and the gradual decrease of collagen and skin suppleness do not help either.
If these lines are a cause of worry, you don't really have to deal with wrinkles and sagging in the lower portion of your face. You don't even have to undergo surgery to remove them. Our non-surgical treatments for nasolabial folds and marionette lines will help you solve the problem. Our trained staff can rectify the trouble spots with non-invasive techniques and restore your beauty.
References
https://www.smartbeautyguide.com/news/nonsurgical-procedures/nonsurgical-treatment-nasolabial-folds-and-marionette-lines/#.YKuGmN3hXIU
https://www.healthline.com/health/beauty-skin-care/marionette-lines
https://aedit.com/concern/marionette-lines