Microblading and Microshading Eyebrows Treatment
Eyebrows are an important facial feature that enhances your eyes and accentuates other facial features as well. Eyebrow restoration is an essential part of aesthetic treatment for eyes and most anti-aging procedures. Both microblading and microshading are the most effective aesthetic procedure for eyebrows, that are widely used. They make your eyebrow look fuller and natural.
Those who are tired of faking fuller eyebrows by spending hours penciling, might find relief through more long-lasting solutions like microblading and microshading. Apart from being a cosmetic treatment, the procedures are now used for dermatology conditions such as alopecia totalis, hypothyroidism, and chemotherapy-induced madarosis. These are vital techniques in any cosmetology and dermatology clinic in Dubai and other parts of the world. However, there has been a significant rise of untrained professionals performing these techniques. The lack of skills and proper knowledge is the leading cause of side effects and bad reviews on the internet.
Those seeking fuller and natural-looking eyebrows must have come across microblading and microshading while searching online. Both procedures use a semi-permanent tattoo technique and create an illusion of lush eyebrows. Although the process is almost identical microblading technique is conducted by making strokes along the brow line, while microshading is more discreet and more natural-looking.
Difference between microshading and microblading:
Microshading and microblading are confused quite often with one another. Both techniques have subtle but important differences in terms of procedure and final results.
Procedure:
Microshading: The procedure includes using fine-tipped pin-like needles that fill the entire eyebrow with light pigmentation.
Microblading: The procedure includes using a bladed needle to deposit pigmentation under the skin by manually drawing hair-like strokes.
Appearance:
Microshading: The procedure gives eyebrow powered appearance.
Microblading: The procedure gives eyebrows hair-like strokes that look like natural hairs.
Results:
Microshading: It creates thicker and more fuller eyebrows.
Microblading: It fills and changes the shape of the eyebrow and has a lighter finish.
Skin type:
Microshading: It is ideal for sensitive or oily skin.
Microblading: It is suitable for dry skin.
Lifespan:
Microshading: It lasts 3-6 months.
Microblading: It lasts 6-8 months.
By now, you must have got a fair idea about the key differences between microshading and microblading. Moving further, let's understand the procedures in detail and what to expect at a typical appointment at our aesthetic dermatology clinic in Dubai.
What is the Microshading procedure like?
Microshading can be done typically in one or two sessions. After the initial consultation, our aesthetic technician provides you the appointment for the first session. To prepare for a microshading appointment, you need to keep in mind some dos and don'ts (described by our dermatologists to all our patients).
Avoid alcohol, ibuprofen, caffeine, and fish oil 24 hours before your appointment.
Stop waxing or plucking your eyebrows 1 week prior to the appointment day.
Don't do facials for at least 2 weeks before the treatment.
Consuming retinol of vitamin A products must be stopped one month before the treatment. Retinol is known to harden the epidermis that makes the procedure difficult and painful.
Avoid sunbathing and tanning for few days prior to the treatment.
Inform your doctor if you have done botox treatment in the past 1 month.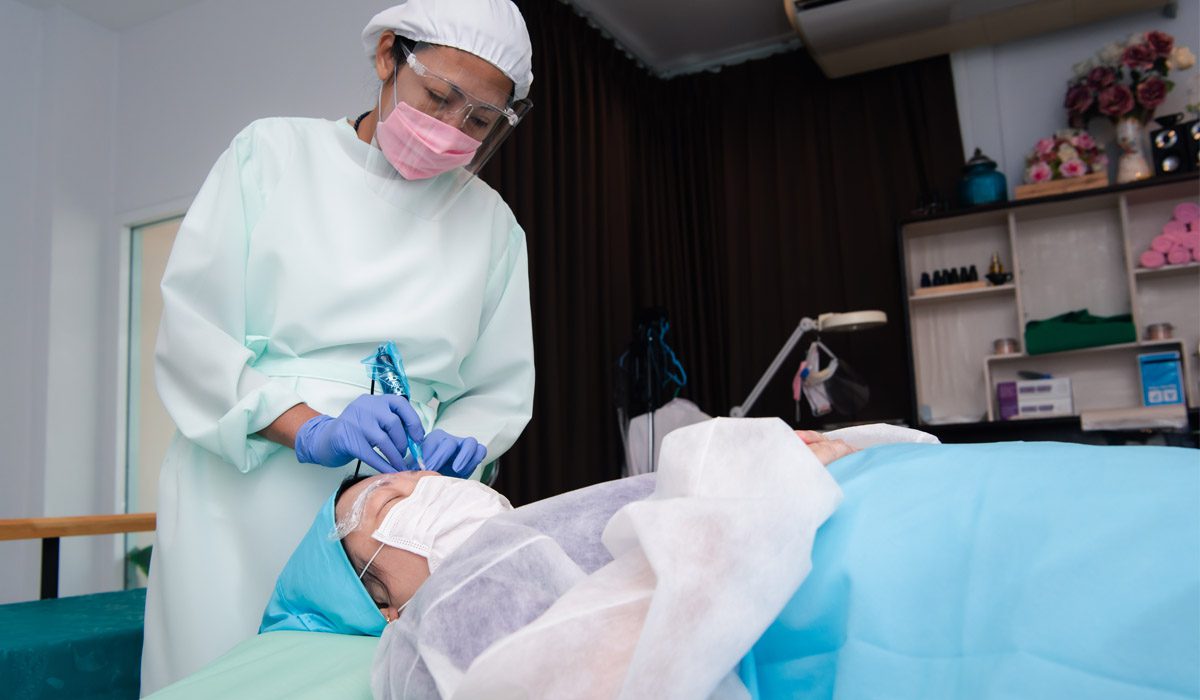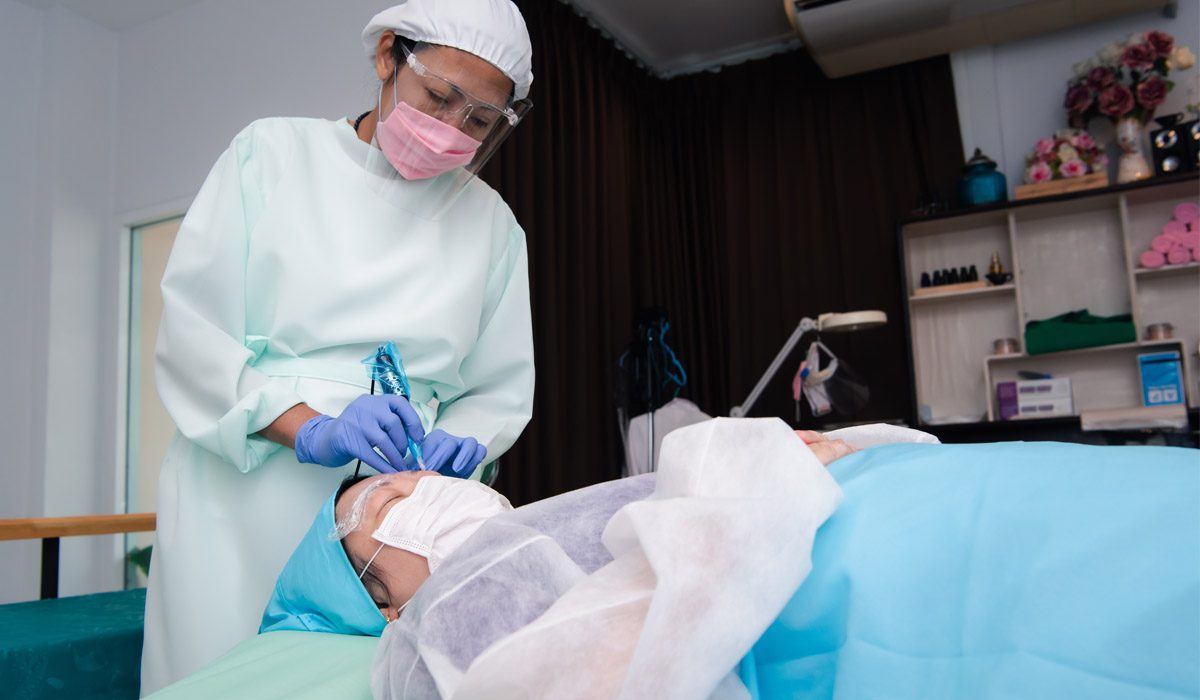 The first session:
The session begins with your aesthetic dermatologists measuring your face and deciding the ideal brow shape. We may even click few pictures so you can have a better understanding of the final results. If you have a shape in mind, feel free to bring the pictures. Once you agree on a shape, the doctor begins the procedure by removing excess hair and determine the right pigmentation color for your brows.
After the first procedure, your eyes may remain darker for 5 days and then gradually lightens as they heal. In about 4 weeks, you can expect the eyebrow color to look more natural.
The second session:
The second session happens after 6-8 weeks of the first session. The primary aim of this second appointment is to provide you more lasting effect and to make the brows look more perfect. The session more or less involves increasing the thickness, tweaking the shape, and adjusting the ends.
What is a Microblading procedure like?
Just like microblading, microshading is also a two-session procedure, where the first session involves the main treatment and the second one is dedicated to creating more perfect results. The list of things not to do before microblading is also the same as microshading.
The first session:
First, our aesthetic doctor in Dubai measures the eyebrows and comes up with the ideal or desired shape of your eyebrows. Then a numbing topical ointment is applied to your eyebrows. It takes roughly 40 minutes for the ointment to start working. Meanwhile, you can relax or discuss more about the procedure with our technicians. Once your eyebrow region is numb, the dermatologist starts with the needling process by applying gentle strokes along the browline, gently moving towards the inner areas. If you feel any discomfort or pain, please let the doctor know. He or she may choose to apply another layer of numbing cream. The doctor leaves the final layer of pigment for 5-10 minutes, and once it's removed, you have beautiful-looking eyebrows.
The second session:
The second top-up session that happens after 6-8 weeks is essential for perfecting the treatment. The doctor examines the patient, fills in the gaps, and checks for parts that may not have healed properly.
How to take care of your eyebrows after the microblading or microshading procedure?
Here are some essential post-session tips that you need to keep in mind to avoid the side effects.
For the first week after the treatment, clean your eyebrows gently with a damp cloth. Avoid pressing or scrubbing. Let the eyebrow air dry, do not rub. Apply the healing cream prescribed by the doctor.
Do not sleep on your face by placing your eyebrows on the pillow for the first few days.
Avoid applying eye makeup, saunas, and sweating.
Keep your eyebrows dry even while bathing.
Keep minimum sun exposure.
Do not scratch your eyebrows.
Avoid exfoliating agents on eyebrows.
Use a clean pillow cover and hand towels.
Why do you need a qualified technician or dermatologist for microshading and microblading?
Although both the procedures are non-invasive and quite similar to getting a simple tattoo, it is advisable to choose a licensed practitioner for the procedure. An experienced and trained professional can take steps to reduce the spread of blood-borne pathogens and any other side effects you may expect from such procedures.
For finding the best aesthetic dermatologists in Dubai, you can seek the recommendation from friends and family. You can go online and read the reviews on credible sites. Check the portfolio of the dermatologists and technicians of the aesthetic clinic. Book an appointment with the doctor of your choice, and don't hesitate to ask about their experience and training. Make sure the doctor is a DHA license holder and approved to perform the procedure.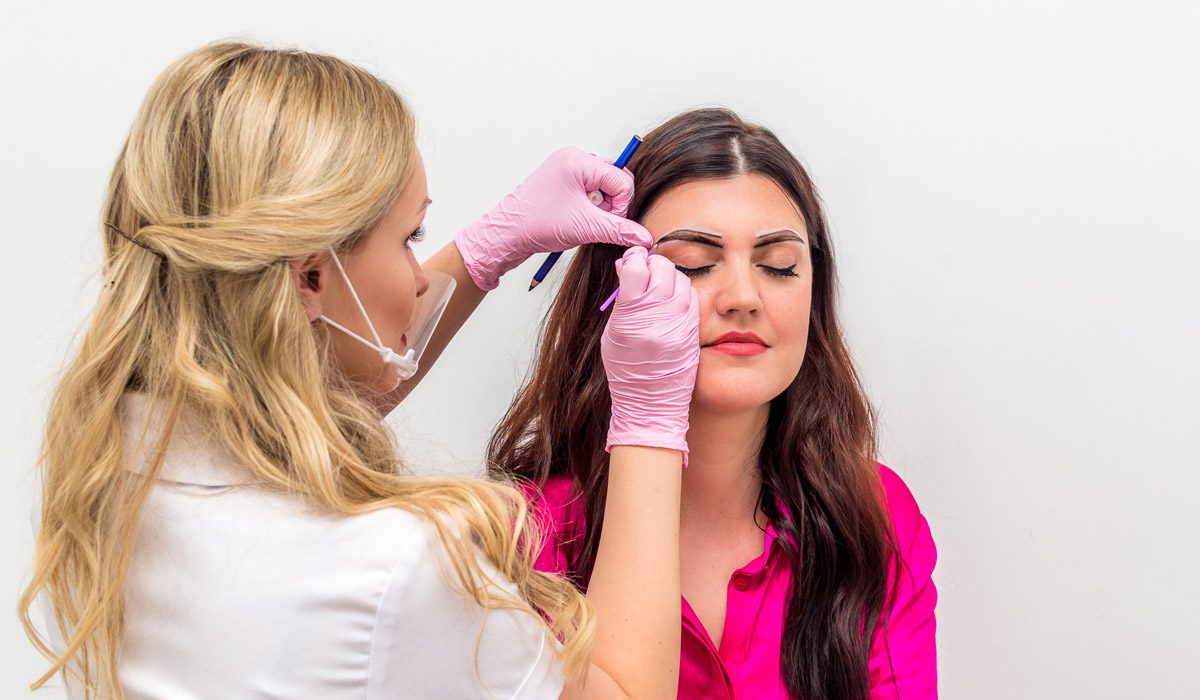 What are the Microblading and Microshading healing processes?
The eyebrow may not appear natural looking just after the treatment. Like every skin treatment, you must go through an annoying healing process. The color of the eyebrows may appear darker for the first few weeks. You may even experience some soreness and redness in the area for few days. Below are the general healing steps that you may undergo after your first session:
Swollen and dark brows.
The appearance of scabs.
Exfoliating.
Pigment getting too light.
The eyebrows looking patchy.
You also need to understand that healing processes are not the same for everyone. All skins and unique, and you may have your own unique experience. Some patients may experience more scabbing and redness than usual. If it's causing too much discomfort, consult your doctor. They may prescribe you the medication for that same.
How long do the results last?
Many of our patients have experienced the results for over 1-3 years. However, you need to come in for a touch-up or maintenance session every 6-8 months.
Microshading or microblading?
It all depends on your skin type, your expectations, and finally, the doctor's diagnosis. The doctor may even recommend you to go for a combination treatment, which is very much possible. People with thinning eyebrows or no eyebrows are the perfect candidates for the treatment. However, you need to tell your doctor if you are undergoing chemotherapy, pregnant or nursing, have undergone an organ transplant, and any other medical condition.
Why 7 DMC?
7DMC has consistently maintained the highest standard of patient care and technical capacities. Our doctors and staff go one step beyond to outperform the standard of care and meet patients' needs. We are continuously growing by adding various departments and providing the finest doctors in Dubai. Since its inception, our clinic has been honored by the continuous support of our hundreds of happy clients.
Our aesthetic clinic in Dubai provides a comprehensive range of invasive and non-invasive treatments for the body, face, and hair. We use state-of-the-art technology to meet unparalleled care to our patients. We ensure that our treatment is tailored according to each patient's bespoke needs and desired output.
If you are looking for a DHA-approved doctor and staff for eyebrow restoration, book an appointment at our clinic and know about the procedures in detail.