Unless you are born and blessed with flawless skin, chances are extremely high that you will encounter acnes periodically throughout your life. Of course, change in your sleeping patterns, diet and lifestyle will help you prevent acne, but what about the scars left behind by them? Not that these scars are permanent, but we all know that they take forever to go away. This makes you blend with concealer on your forehead and cheeks over and over again every time you need to step out of your home.
However, if you are looking for a more refined and quick solution to getting rid of acne scars, we highly recommend you to get yourself acquainted with chemical peels. 
What is a Chemical Peel?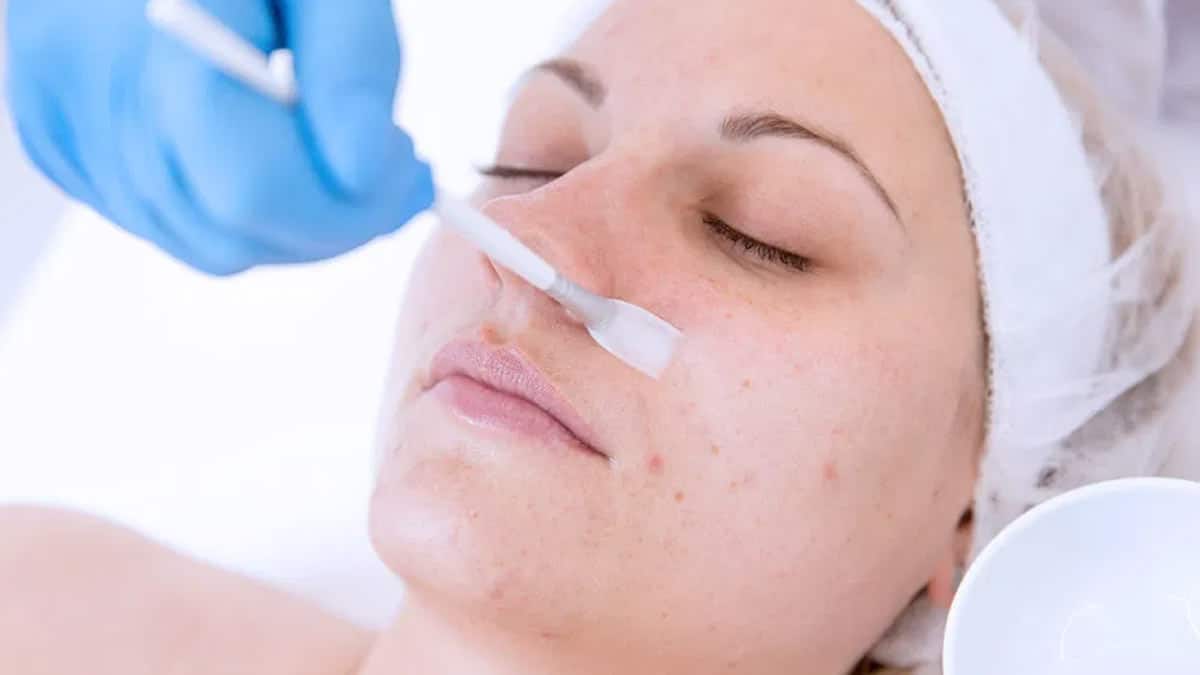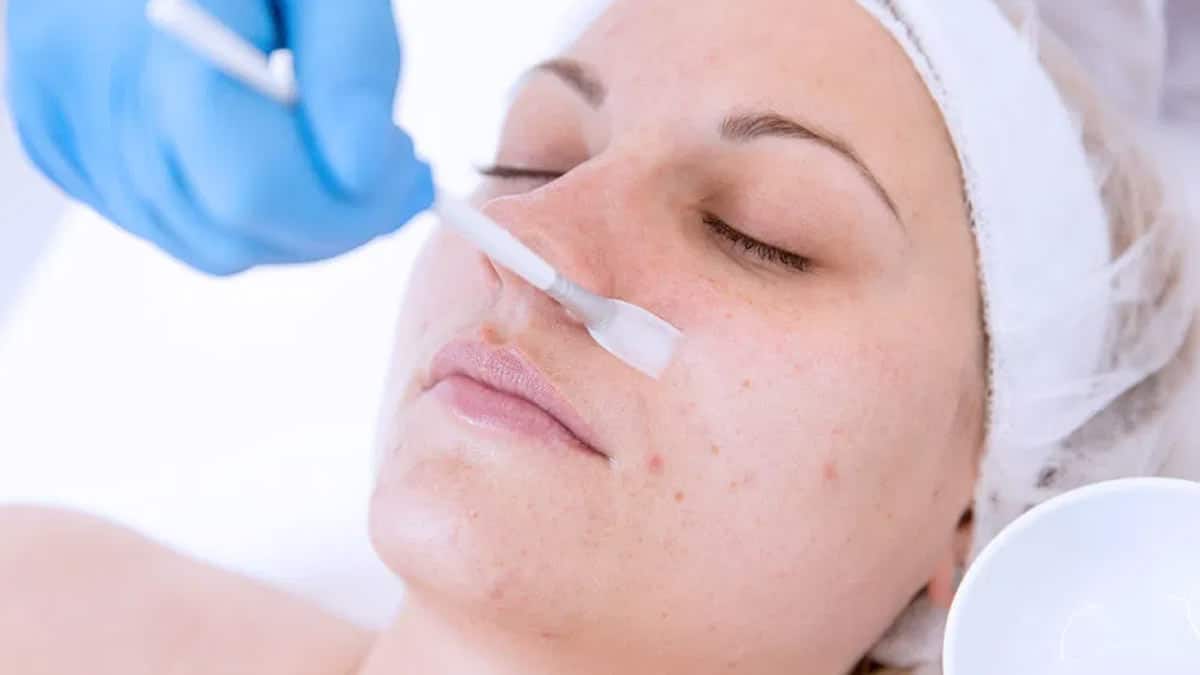 Chemical peels are a strong type of chemical exfoliation wherein an acid solution is used to eliminate pore-clogging impurities and dead skin. It works on the mechanism of causing cellular level injuries to the affected area (similar to microneedling) to surface new skin cells. They remove the top layer of unhealthy, scarred skin and allow new skin cells to develop in their place. To put it simply, the goal of chemical peels is to peel off old skin cells and replace them with new and healthier ones.  
The strength of the peeling solution will be determined by the severity of the acne scars. But, it should be noted that stronger peels require a longer downtime to heal since they cause deeper injuries than their lighter counterparts. 
When used with the right technique and under the supervision of a trained professional in a controlled environment, chemical peels can even rejuvenate your complexion.  In recent years, chemical peels have been recognized as a great way to maintain the health of your skin.
Now, you may think that they are just like exfoliators that you do at home. Well, yes, they are kind of exfoliators; the only difference is that they are much better at their jobs than your regular everyday exfoliators.  
The trauma from the subtle injuries inflicted by chemical peels not only removes the dead skin cells on a surface level, but it also stimulates the natural response of your body to produce collagen, which in turn, helps in vanishing your acne scars.  
What are the Benefits of Chemical Peel?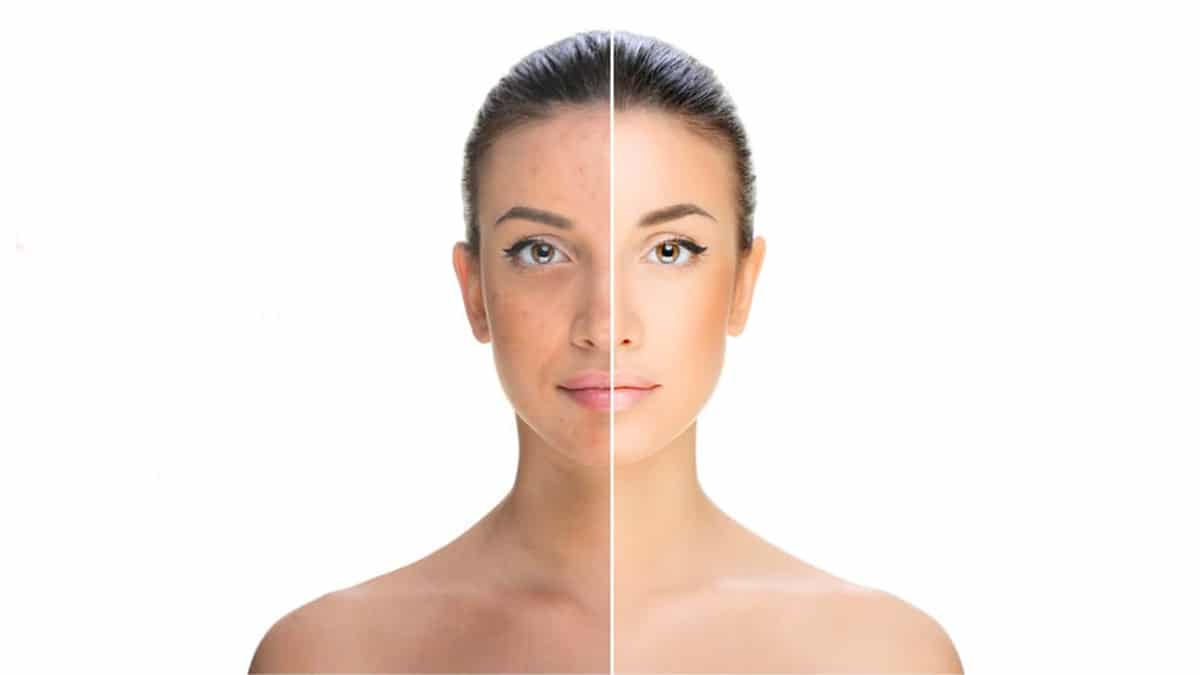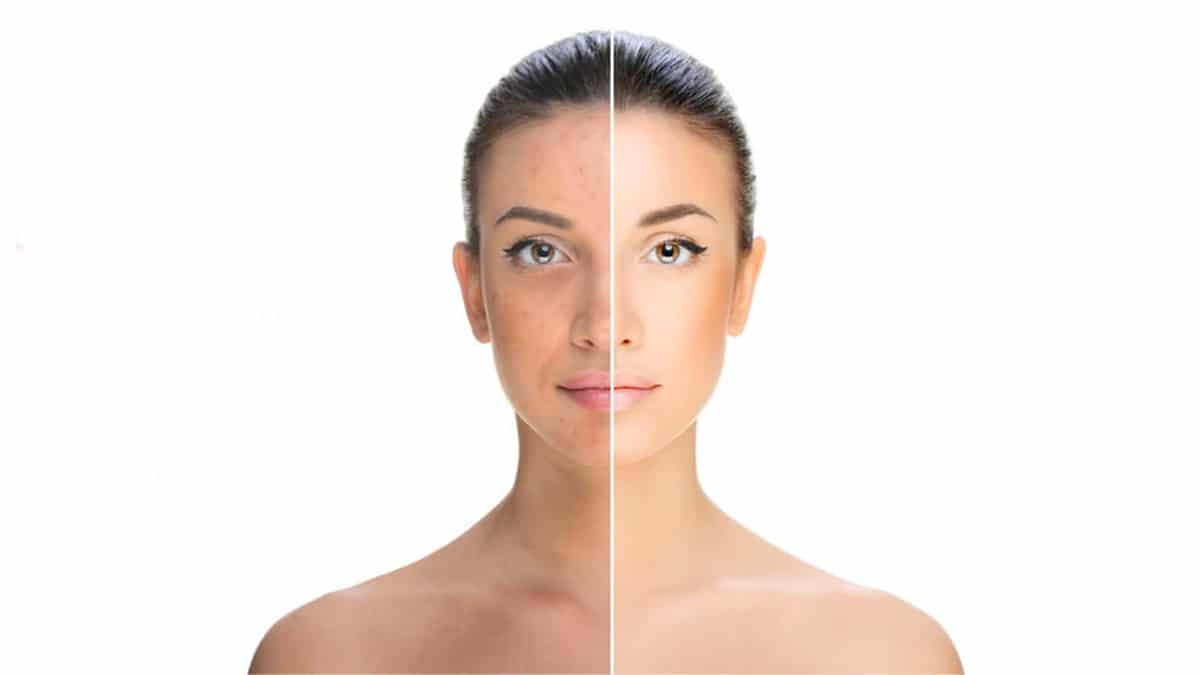 Contrary to popular belief, the benefits of chemical peels are more than just removing dead cells. Take a look into the following list to find out about them.
Chemical peels help in:
Removing deal skin cells

Unclogging pores

Reducing the appearance of acnes

Smoothening the texture of your skin

Evening your skin tone

Stimulating the production of collagen

Lightening dark spots

Boosting your skin's very own internal hyaluronic acid

Improving the efficacy and penetration of skincare products
Chemical Peel – Home vs Professional Assistance
Both in-home and professional, chemical peels can help you in treating acne scars, of course, to varying degrees.  The ones that you would get at home will obviously not be as strong as their professional counterpart, but they will still get the job done.
A bunch of at-home chemical peels are now available in the market for you to choose from.  When selecting a chemical peel for home, make sure to look for the following ingredients:
Fruit enzymes
They help in giving your skin the essential glow.
Glycolic and lactic acids (AHAs)
These are preferred over salicylic acid since they can remove dead cells gently. 
Beta-hydroxyacids (or salicylic acid)
It unclogs pores and helps in clearing up acne lesions.
Trichloroacetic acid (TCA)
It enables new skin cells to surface by penetrating the deeper layers of your skin.
Retinol
It helps in boosting the production of collagen and in making your skin smooth.
As for professional chemical peels, let us understand them up and close. 
How to Prepare for a Chemical Peel?
Chemical peels are not very demanding when it comes to beforehand preparations. 
It is expected of you to be transparent to your dermatologist about the health of your skin. You need to let him or her know of any current or past skin treatments or surgeries that you have had. If you are under any medications, please inform that to him or her as well. 
Try and avoid getting waxed or bleached before a peel as well.
Coming to skincare routines, try and stick with your regular ones right before the peel instead of trying new ones. This is because you never know how a new skincare regime will affect your skin. It is possible that it might activate cosmeceuticals that may end up irritating your skin. This would, in turn, lead to an uneven peeling and late recovery period.
Similarly, don't start any new retinoids right before the peel. However, you may continue your regular ones as long as you let your dermatologist know about them. Some people assume that retinoid users need a stronger chemical peel since retinoids are themselves peeling agents that thin out your dead skin cell layer. But what they don't realize is the fact that retinoids also help in thickening epidermis which means that the outer skin cell layer is thick, and not thin among retinoid users.
Understanding the Process of Chemical Peel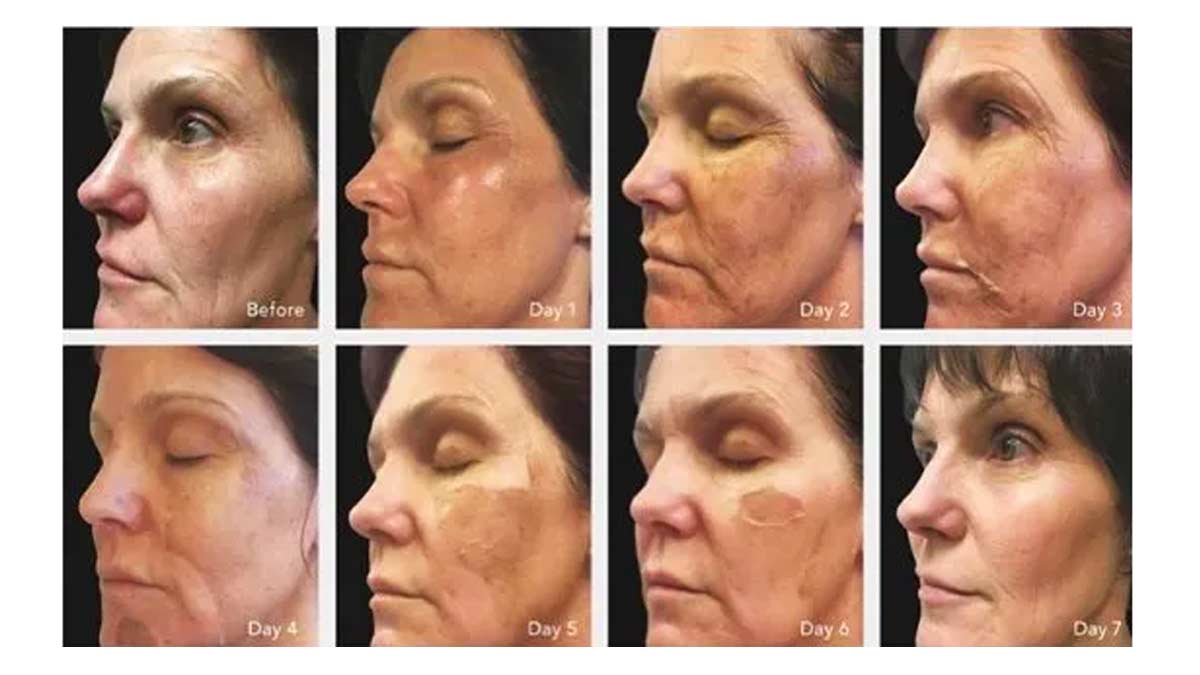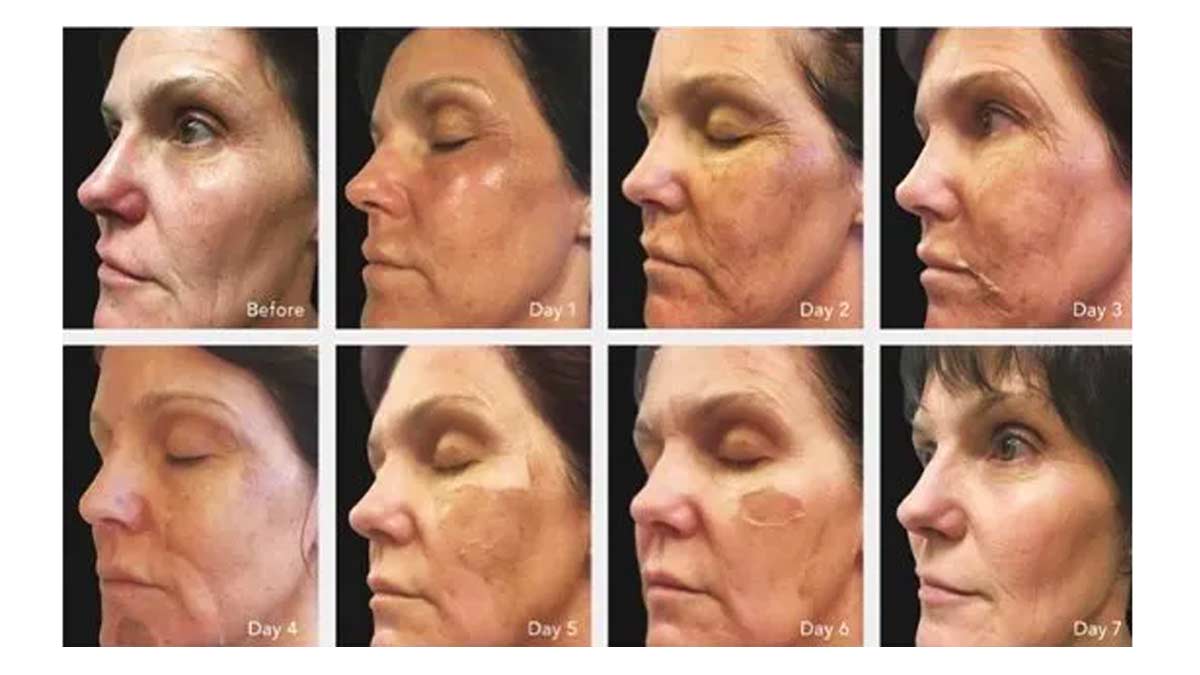 First of all, you should know that there are various types of chemical peels, all of which differ from one another in their application process. But, overall, the basic procedure remains the same for the most part. 
After getting an appointment for a chemical peel treatment in an aesthetic dermatology clinic

, your skincare specialist will make sure that your skin is thoroughly clean. To do this, he or she will do a deep cleansing.

Chemical peels have to be performed in a surgical setting. You will require general anesthesia to go to sleep.

Next, your dermatologist will apply the chemical peel on the affected area.

Finally, the peel is carefully taken off once it has dried off.
As for how soon you can expect to see the results, it all depends on the quality of your skin, the severity of your acne scars, and the type of chemical peel you chose. It is usually recommended to undergo a chemical peel every four to six weeks.
How to Take Care of Yourself After a Chemical Peel?
Avoid taking sunbaths or getting under the sun too much since your new skin cells following the chemical peel will be susceptible to sunburns. When you step outside of your home during the daytime, make sure to apply a mineral SPF 30 sunscreen with zinc oxide and wear a sun protection hat.
If you feel the necessity to wash your face within the first 24-48 hours after the treatment, avoid any foam-based products. Choose a milk-based cleanser instead. A gentle cream can be applied as well.
In addition, make sure not to use any physical scrubbing modalities such as rough paste cleaners or strong exfoliators or a loofah for a couple of days. The same goes for waxing as well.
Follow our guidance carefully and consult a dermatologist even if you are going for in-home treatments. As they say, you can never be too sure of anything. 
References
David E Castillo and Jonette E Keri – NCBI – Chemical peels in the treatment of acne: patient selection and perspectives. Available at:
https://www.ncbi.nlm.nih.gov/pmc/articles/PMC6053170/#:~:text=Deep%20chemical%20peels%20are%20used,target%20its%20different%20pathophysiological%20factors.
Evangeline B Handog, Maria Suzanne L Datuin, and Ivan A Singzon – NCBI – Chemical Peels for Acne and Acne Scars in Asians: Evidence Based Review. Available at:
https://www.ncbi.nlm.nih.gov/pmc/articles/PMC3560163/
Hassanain Al-Talib, Alyaa Al-khateeb, Ayad Hameed, and Chandrika Murugaiah – NCBI – Efficacy and safety of superficial chemical peeling in treatment of active acne vulgaris. Available at:
https://www.ncbi.nlm.nih.gov/pmc/articles/PMC5429107/