Treatment for Lower Back Pain
The lumbar portion of the spine is referred to as the lower back. The lumbar spine has a lot of heavy lifting to do – it bears the weight of your whole upper body, as well as biomechanical pressures from movement. The lower back structure comprises the bony lumbar spine (vertebrae), discs, ligaments, nerves and spinal cord, muscles, internal organs of the abdomen and pelvis, and the skin over the lumbar portion.
The human body's low back performs a variety of critical activities. Mobility, structural support, and protection of particular body tissues are some of these functions. The lower back functions to sustain the weight of the upper body whenever we stand. It is involved in motion when we flex, stretch, or twist at the waist. The lumbar spine and neighboring muscles of the low back play an important role in preserving the soft tissues of the neurological system and spinal cord, as well as neighboring organs of the abdomen and pelvis.
Causes of Lower Back Pain
The majority of discomfort is caused by an injury, such as muscle sprains or strains triggered by rapid movements or improper lifting habits. Such instances may result in tearing of muscles and cause severe back and neck pain. Several other factors include:
Nerve Irritation – The neurons of the lumbar spine can be inflamed by mechanical stress by bone or any other tissues, or by illness. This may occur anywhere along their routes – from the base to the surface of the skin, resulting in discomfort.
Lumbar Strain – One of the most likely causes of low back discomfort is lumbar strain. The stretch damages the low back's ligaments, tendons, and muscles. The straining occurrence causes microscopic rips in various tissues of variable degrees. Overuse, incorrect use, or shock can all lead to injury.
Bone and Joint Problems – Low back pain can be caused by a variety of bone and joint problems, including those that are present from birth (congenital), those that are caused by inflammation of the joints (arthritis), and those that develop over time (degenerative).
Pregnancy – Structural straining of the lumbar spine and the location of the fetus inside the abdomen are two prominent causes of low back pain during pregnancy.
Kidney Disorders – The pain is usually linked to stones, bladder infections, and severe bleeding of the kidney as well.
Tumors – Tumors, whether benign or malignant, that develop in the bone of the spine, pelvis, or spinal cord or those that grow somewhere else and spread to these regions can both induce low back pain.
Trauma – Sudden spine injuries or displacements can cause pain. Back discomfort that arises after a traumatic event, such as a car accident or a slip, must be checked by a doctor before starting any medication or treatment.
Symptoms
Low back discomfort can manifest itself in a variety of ways. It might be minor and inconvenient, or severe and incapacitating. Neck and back pain can occur suddenly or gradually or may become worse with time. Lower back pain symptoms might vary depending on the specific source of the pain. The range of symptoms includes:
Dull or aching pain in the back.
Numbness or tingling sensation.
Pain that gets worse during sitting or standing for a long time.
Low back, pelvic, and hips muscle spasms and stiffness.
Difficult to transition from sitting to standing position.
Diagnosis
Low back pain is diagnosed through a study of the patient's medical history and underlying medical disorders, as well as a physical evaluation. Injury history, exacerbating and alleviating factors, concurrent pain symptoms like numbness, fever, tingling, etc., as well as the intensity and development of symptoms are all examined by our skilled and experienced doctors.
A series of tests including X-rays, CT scans, and/or MRIs may also be arranged by our specialists in order to pinpoint the source of your back discomfort.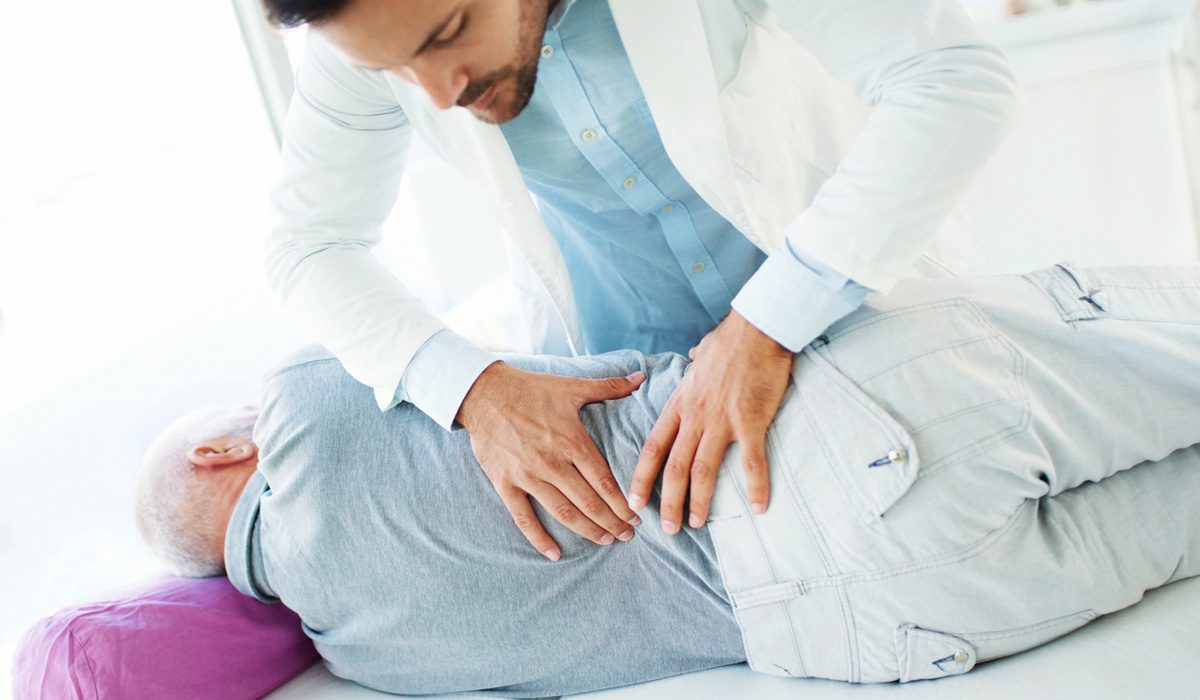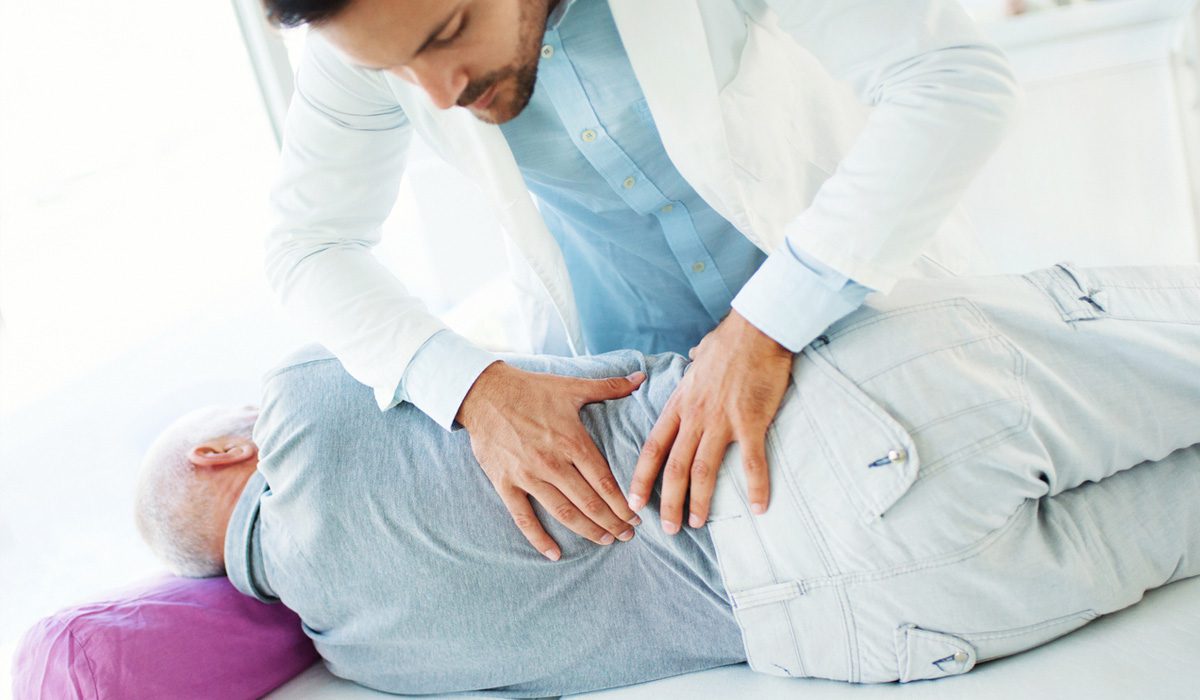 Treatment
The treatment for back pain is highly dependent on the exact cause. Furthermore, every patient is assessed and handled on an individual basis, taking into account their underlying medical status and degree of activity.
Treatment options include medicinal remedies, alternative care, home care, or even surgery. Based on the patient's condition, some therapies may be more beneficial than others. In some cases, a combination of therapy works best.
Alternative remedies may also help patients with low back pain. Some of the most common choices are manual therapy, acupuncture, and massage therapy. Spinal manipulation technique is also used by chiropractors and other practitioners to treat lower back pain in some cases.
If the pain does not improve following a 6 to 12-week period of nonsurgical therapies, surgery may be suggested.
Self-care and Prevention
Simple home treatments can be effective to minimize and prevent the symptoms of chronic, intense pain, and heal mild or transient muscle strain. Personal care is administered by the patient himself/herself and is easily adjustable. Some of the techniques include:
Interchanging heat and ice can be particularly beneficial when reverting to activity. Applying heat before tasks helps induce relaxation and allow greater flexibility, whereas applying ice after activities minimize the likelihood of a region becoming swollen and inflamed.
Preventing or reducing painful back spasms and allowing for a favorable healing environment can be as simple as limiting or eliminating activities and postures that increase the pain.
Many instances of lower back pain can be alleviated by avoiding vigorous exercise for a short period of time. Resting for more than just a few days is not recommended, as it can make recovery more problematic.
Lower discomfort can be avoided from worsening by assessing your work area and making it more ergonomic.
Consuming a healthy diet is vital for a variety of reasons when you have back pain. A healthy diet helps you maintain weight and the critical nutrients can aid in bone formation and maintain bone strength.
Some over-the-counter medications such as aspirin and ibuprofen relieve low back pain induced by inflamed nerves or muscles.
Yoga and exercise can help with discomfort in the short term. This also promotes stress relaxation, which can aid in reducing tension held in the lower back.
Self-care remedies normally do not require medical supervision, but they must be utilized with caution and attention. Any medicine has the potential for hazards and adverse effects. You must consult our doctors before starting any medication.
7DMC is a specialist back pain clinic in Dubai that aims at providing high-quality healthcare services to patients. We specialize in both surgical and non-surgical treatment for back pain. Our team of skilled doctors will thoroughly assess your case to establish the source of your pain and recommend the most appropriate treatment options.
Bottom line
Lower back discomfort is likely to trouble you at some stage in life, whether you carry heavy items or merely have a slipped disk from a bothersome sports injury. Acute injury or chronic stress that advances to arthritis can cause low back discomfort. This, in turn, can cause the shock-absorbing fluid-filled disks in your spine to break down.
Pain in the lumbar portion can be a severe and chronic illness. Small, everyday actions can alleviate or aggravate your suffering. You can potentially slow down or stop pain by strengthening, stretching, and protecting your back. However, lifestyle changes may not always be enough to alleviate severe cases of pain. Schedule an appointment with us if your discomfort is interfering with your ability to do daily tasks.
References
https://www.spine-health.com/conditions/lower-back-pain/early-treatments-lower-back-pain
https://www.healthline.com/health/low-back-pain-acute#_noHeaderPrefixedContent
https://www.medicinenet.com/low_back_pain/article.htm