Benefits of Mesotherapy for Face and Neck
The desire for healthy and glowing skin is never-ending. It's easy to be overwhelmed by the beauty industry's abundance of procedures that promise amazing outcomes. However, there are a few techniques that can help you achieve the skin you want. Mesotherapy is one such treatment that aims to tighten and revitalize your skin.
With an increasing number of individuals resorting to homeopathic and organic plant extract-based remedies to promote health and well-being, it's only natural that herb and vitamin formulae must be used to enhance beauty. Mesotherapy provides you with the assurance that only a healthy concentration of liquid is permeating your skin to rejuvenate it.
What is Mesotherapy?
The word 'meso' indicates 'middle.' In mesotherapy procedures, thin needles are used to administer injections to the middle layer of skin. A therapist injects hormones, vitamins, and enzymes into your skin using very thin needles to tighten and revitalize it. The aim of this treatment is to address the root causes of skin deterioration, such as inflammation and poor circulation.
This method was created to help those suffering from discomfort due to medical issues. Subsequently, it is used in cosmetic dermatology to remove fat, frequently as a substitute for liposuction. Mesotherapy is commonly used to treat a variety of skin problems, including pigmentation, skin tightening, wrinkles, lines, etc. Drooping skin on the face, neck, and arms can also be toned and tightened using this process.
In aesthetics, this therapy is mostly used for face and neck skin rejuvenation, skin tightening and whitening, and wrinkle reduction. When it comes to non-surgical treatments, mesotherapy is one of the most preferred choices.
Benefits of mesotherapy
Mesotherapy is a perfect choice if you don't want to undergo surgery and instead want to get a healthy glowing look by using plant-based efficient remedies to nurture your skin from within. To nourish, heal, and renew skin, a typical mesotherapy cocktail might comprise numerous active components. The treatment has numerous advantages, hence it is one of the most preferred aesthetic procedures. Some of the benefits include:
Improves the appearance of skin – Mesotherapy is a great option for individuals wishing for extra glow on the skin, especially on the face and neck area. Based on the components used, the procedure helps with age spots, discoloration, and patches. This treatment brightens and levels out your skin tone and stimulates elastin and collagen to restore suppleness on the face.
Provides vitamins and other nutrients – Vitamins, serums, and other nourishing combinations of effective components are administered to your skin, making it feel fresh and invigorated. When performed by a professional, mesotherapy ensures that nutrients are administered to your skin adequately.
Addresses variety of skin needs – You receive personalized nutrients for your skin, whether you are seeking an anti-aging remedy or wish to increase the brightness of your skin on your face and neck. The skin receives an energy boost, and significant effects are seen after the treatment.
Keeps the skin hydrated – Mesotherapy also assists to increase the moisture content of the skin, making it look full, tight, and healthy.
Substitute to expensive surgeries – It is less intrusive than other treatments and plastic surgeries and can be used in addition to your anti-aging skincare. You don't have to undergo surgery to improve your appearance. You obtain natural-looking and healthy skin after the enriched serums are administered to your skin through needles.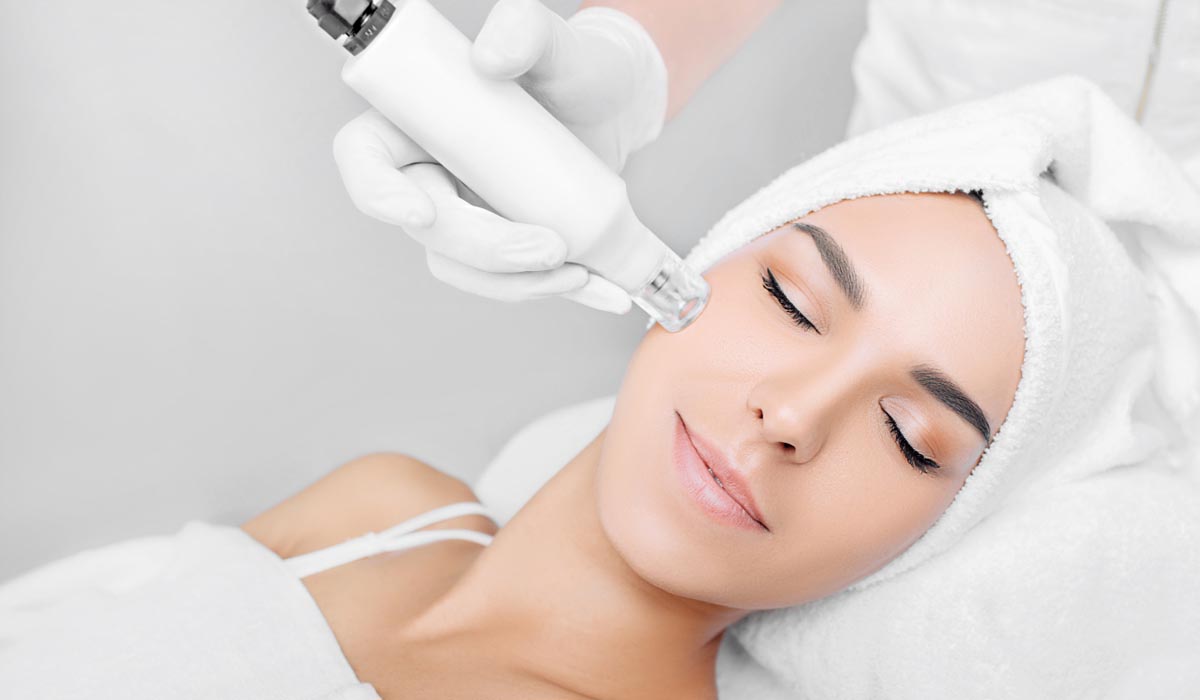 Fat removal – The injected fluid shatters the walls of the fat cells, allowing the fat to melt away. The lymph system reabsorbs the excess fat and discharges it through the body's normal metabolic process. As its enzymes disturb the fat cells, the therapy helps enhance the image of cellulite.
Hair loss – Hair thinning and hair loss can be treated with a combination of nutrition and medicines. The scalp is administered with a vitamin boost using a specific cocktail, which can enhance blood circulation and better nurture the hair follicle. It is a good idea to begin therapy as soon as you see the first traces of hair loss, as this will slow or stop the thinning process.
The procedure
Mesotherapy is a straightforward procedure. However, you must schedule an appointment with our dermatologist to address your concerns. Our expert will comprehend your skin's demands and the kind of components it may require.
During the procedure, our specialist may use a local anesthetic to numb the areas to be addressed. This, however, is contingent on your pain threshold. The contents are injected into the intended location using a microneedle by the expert. The injections are given at various depths. This, too, is specific to the type of skin problem you have. The number of shots and sessions will vary depending on the severity of your therapy and the ingredients involved.
Risks involved
When administered by a professional, mesotherapy has minimal risks. However, some side effects include nausea, pain, sensitivity, swelling, itching, and redness.
There is usually little interruption with mesotherapy because it is non-invasive. The majority of patients are ready to commence their usual tasks within a few days. Inflammation and stiffness around the insertion site may need a day off for others. If you decide to go for mesotherapy, talk to our licensed practitioner to eliminate the risks of the treatment.
Why choose 7DMC?
7DMC is one of Dubai's most prestigious clinics. We are committed to providing holistic treatments that address all of our patient's needs. With the purpose to assist our patients to lead normal lives, we constantly invent new procedures. We are here to assist you with unmatched treatment procedures carried out by the best doctors on board. Our team has unquestionable competence and interacts with patients before treatment begins.
Our state-of-the-art dermatology clinic offers mesotherapy treatment as part of our comprehensive spectrum of cosmetic and laser therapy. Our specialist will conduct a thorough assessment and consultation before commencing your procedure. This will include a skin type analysis as well as inquiries about your lifestyle and food habits.
Please contact our clinic for more details on mesotherapy. After analyzing the situation, our team will direct you as to how therapy should be conducted.
Bottom line
Mesotherapy is a non-surgical cosmetic procedure that targets trouble spots on the body, such as face and neck revitalization, body contouring, stretch marks, and excess fat, to mention a few. In this procedure, a series of injections containing a variety of vitamins, minerals, and medicines are administered to your skin.
Mesotherapy is proved to be effective to treat a variety of skin conditions. It's an incredibly powerful aesthetic medicine procedure since it targets layers of the skin that other non-invasive treatments can't reach. However, before undergoing mesotherapy or other cosmetic surgery, you must always seek the advice of a qualified physician. Contact us today to get more information on the mesotherapy procedure and how it can address your specific need.
References
https://www.medicalnewstoday.com/articles/95640#1
https://www.healthline.com/health/mesotherapy#cost