DR. FATME MATAR
Doctor of Physiotherapy
Dr. Fatme Matar is a DHCA and DHA licensed Doctor of Physiotherapy with an extensive portfolio of knowledge and is a highly motivated, confident physiotherapist having professional experience (clinical and teaching) of 20 years with exceptional therapeutics skills. Specialized in Cardiopulmonary PT for pediatrics, Neuro and Ortho PT. Able to communicate effectively and sensitively with patients to maximize their rehabilitation and to ensure understanding of often complex clinical issues impacting their recovery. Excellent client soft skills and the ability to work closely with other health care professionals to assess patients' needs and devise suitable treatment plans for them.

Dr. Fatme provided physiotherapy and treatment for both outpatients and inpatients using a variety of therapeutic procedures design to restore loss of muscle strength, coordination of body alignment, relieve pain, and improve movement and function. She was responsible for managing a clinical caseload, providing physiotherapy assessment and treatment to the highest standard. At our medical centre, you will immediately find yourself at ease as Fatme motivates you towards wellness while providing you with support and awareness about your condition.

Building rapport with her patients while giving them space to express their concerns is something that she takes great pride in. In order to ensure that her patients get pain relief, Dr. Fatme uses different techniques including manual therapy and therapeutic exercises, and several modalities such as ultrasound, laser therapy and shock wave therapy that helps to relieve pain and improve health condition. Committed to obtaining the best results with her patients she says, "I feel that the most important aspect of rehabilitation is to maintain a strong communication channel between the patient and physiotherapist."

Dr. Fatme speaks Arabic, English, and French fluently.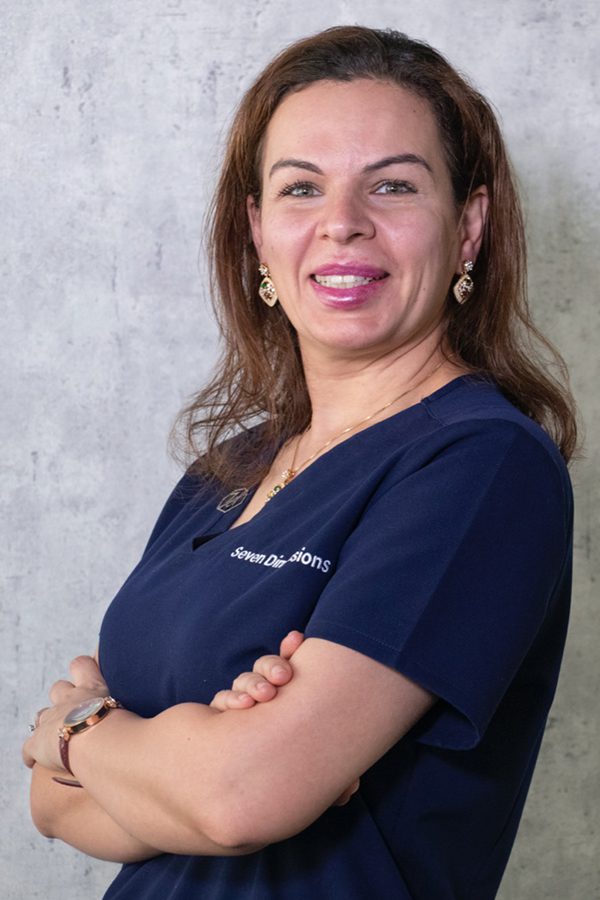 Physiotherapy
Manual therapy
Musculoskeletal Physiotherapy
Orthopedics
Stroke Management
Sports Injuries
Patient Care
Neurological Conditions
Multiple Sclerosis
Occupational Health and Safety
Pain Management
Gynecology
Dry Needling and Cupping
Ozone Therapy
Mesoptherapy
Aesthetic- Face and Body
---
"Maxillo-Facial Disorders: Global Management Conference" - Held at Sahel General Hospital, Beirut
"Introduction to Facilitation Technique" - Held at Global University
. "Hip Arthritis: Global Management Conference" - Held at Sahel General Hospital, Beirut
"Introductory Course for Orthopedic Manual Therapy (Neck & Shoulder)" - Held at Makassed Hospital
"Dry Needling & Electrical Dry Needling" – Held at Makassed Hospital
"Rehabilitation and Motor Learning Across Life Span" - Held at I'dad - Mechref
"Vestibular Rehabilitation" - Held at Sahel General Hospital, Beirut
"Congress Symposium about Therapeutical Approach of Tai-chi and BA DUAN JIN
"Mulligan Approach for Spine" - Held at Global University
"Physical Management of the Ankle-Foot Complex" – Held at Beit Al-Tabib
"Cardio Pulmonary Resuscitation" – Held at Makassed Hospital
"Basic Cardiac Life Support" – Held at Makassed Hospital on 30th April 2004.
---
B Sc. Physiotherapy - Lebanese University
B Sc. Demography - Lebanese University
M Sc. Demography - Lebanese University
Professional Master in Physiotherapy - Lebanese University

---