DR. Dr. DINA JAMAL
General, and Aesthetic Dentist
Dr. Dina Jamal a general and aesthetic dentist that a fervent believer in preventive and conservative dentistry.   She believes that she can make a difference in patients' lives by offering the patient opportunity to be active in their treatment decision process, educating them as to how they can maintain a healthy smile for life and help patients have not only a healthy mouth but a healthy body.

Dr Dina a graduate of University Of Sharjah college of Dental surgery. Offering two years of experience She makes every effort to stay on top of current developments in dentistry. To that end, she maintains the highest levels of accreditation and takes advantage of ongoing education in both general and cosmetic dentistry by attending multiple courses and workshops. Dr. Dina scope of dental expertise encompasses such procedures as veneers, teeth whitening, tooth extractions, root canals, restorative crown and bridge treatments, removable dentures, anterior and posterior teeth fillings, Fissure Sealants, Flouride Application, Scaling and Polishing, Root Planing, and Night Guards.

Dr. Dina is fully committed to his patients' smiles, and that means keeping his mind and skills sharp! She also ensures on treating patients like members of her own family. She is dedicated to getting to know each patient she treats because she believes that's the best way to ensure patients get the highest level of care they deserve. This enables her to serve her patients' unique dental care needs quickly and expertly, providing them with a gentle and comfortable experience every time. No matter his patients' concerns—emergency, restorative, or cosmetic—Dr. Dina ensures their trust is always in the best hands possible.

To Dr. Dina dentistry is not just drilling and filling, but the perfect blend of art and science. She is passionate about her career as a dentist and takes pride in the strong relationships she has created with her patients and colleagues throughout the years.

Outside the clinic Dr. Dina enjoys spending time with her family, and friends enjoying the outdoors and everything UAE has to offer. She is also an artist who enjoys making art by its all means.
Dr. Dina is specialized in Veneers, Smile Design, Anterior and Posterior Biomimetic Fillings, Crowns, Bridges, Inlays, Onlays, Indirect/Direct Pulpotomies, Pulpectomies, Uncomplicated Root Canal Therapy, Internal Tooth Bleaching, Chair-side Zoom Whitening®, Zoom Home Whitening®, Fissure Sealants, Flouride Application, Scaling and Polishing, Root Planing, Conscious Sedation under Nitrous Oxide/Penthrax, Night Guards and Occlusal Splints.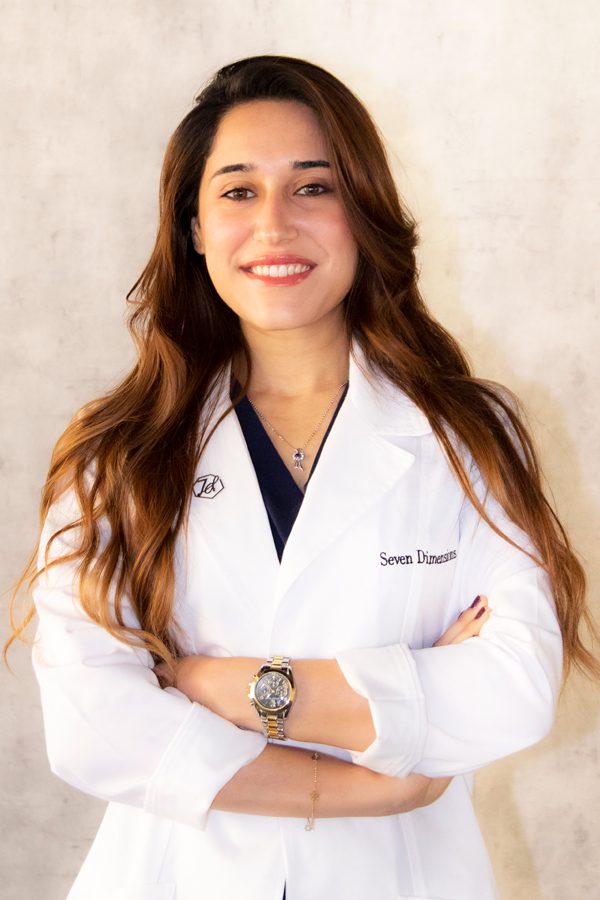 University of Sharjah, United Arab Emirates

---
ADA [American Dental Association]
USDSA [University Student's Dental Association]
---
Traveling, Photography, Smile Desiging
---